Estimated read time: 5-6 minutes
This archived news story is available only for your personal, non-commercial use. Information in the story may be outdated or superseded by additional information. Reading or replaying the story in its archived form does not constitute a republication of the story.
(KSL/AP) -- A wall of snow 500 yards wide and 30-feet deep tumbles down a dangerous yet popular out-of-bounds slope, taking several skiers with it.
Dave Edmunds: "Hopefully we will find someone alive, but that is becoming increasingly unlikely as time goes on."
Summit County Sheriff Dave Edmunds said he did not know precisely how many people were missing in the slide, but said he was "willing to say more than two." He did not know if victims were wearing avalanche beacons, which would transmit their locations, even under the snow.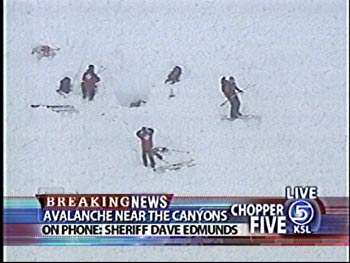 Members of the ski patrol now believe one person at the top triggered the slide and there may be as many as four people buried.
Pictures from Chopper Five indicate searchers are digging in at least two areas of the slide.
Edmunds says witness indicated they thought two men were in the backcountry had been swept away in the slide around 1:30 this afternoon. KSL reporter John Daley spoke to a witness who was in the bowl, saw the slide come down, and saw two people below him caught in the slide.
Sue Johnson, another witness believed she had heard that rescuers had found a signal from one beacon, but not two.
John Daley also spoke with the father of a couple of boys who has been trying to reach his sons. He said his sons frequently ski the bowl off of 99-90. He was obviously very concerned that his sons could have been caught in the avalanche, and was anxious to hear from them.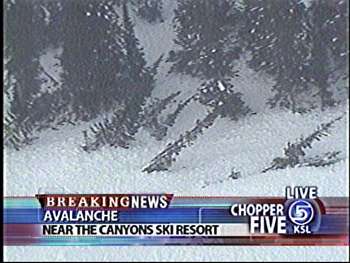 Edmunds quickly discounted the report of some television outlets that reported up to 15 people had been trapped in the slide. "That is erroneous," he said. The report of one to two trapped skiers comes from a witness, who has been able to give searchers an idea of where the skiers may be located.
The avalanche is being described as massive. On a scale of one to 10, Sheriff Edmunds describes this avalanche of a seven.
About 30 search and rescue workers, rescue dog crews and members of ski patrols from Summit County resorts were searching the area of Dutch Draw Friday afternoon, Edmunds said.
Sheriff Dave Edmunds:: "We have got every piece of equipment and personnel that we can up here right now. And we'll continue to bring folks in as we can."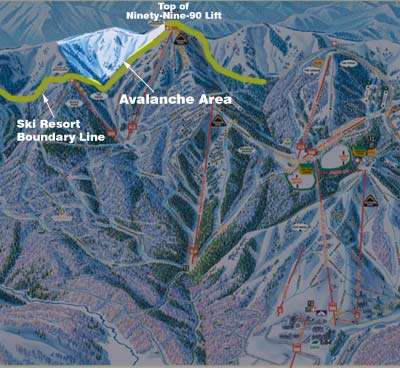 Life Flight helicopter was dispatched from Salt Lake City, about 20 miles away, with a report of possible victims, said LDS Hospital spokesman Jess Gomez.
It's not clear how deep the snow is, but eyewitness accounts say only the tops of tall evergreen trees can be seen in the slide area.
Sheriff Edmunds asked people to stay away from the back country as this is, what he called one of the worst avalanche seasons we've seen in recent years.
Sheriff Dave Edmunds: "Avalanche danger in Summit county is extreme. If you're going into the back country you're putting your life at risk, and you're also putting the lives of my searchers at risk. So we would ask you not to go into the back country."
"(The slide) is huge," said skier Jess Fleig, speaking to The Associated Press by cell phone. "It ripped from the very top, from side to side and the debris goes all the way down through the valley below and through the trees."
Fleig said he avoided the popular backcountry area known as Dutch Draw on Friday.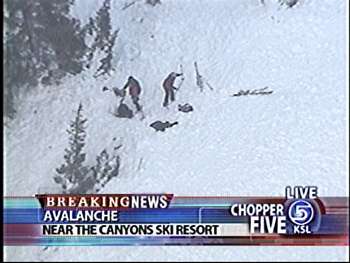 "I looked at that ride probably 20 or 30 minutes before it went and what immediately came to mind is that's trouble waiting to happen," the 35-year-old disc jockey said.
Numerous ski tracks were visible, he added.
"You have to hike 10 or 15 minutes to get there, but it's marked with skull and crossbones and a warning that you could die," he said.
Bruce Tremper, director of the Utah Avalanche Center, said the slide was in Dutch Draw, just south of The Canyons resort.
That is an out-of-bounds area next to The Canyons, but the resort "can't close it off. It would be like trying to close a city park," Tremper said.
Sheriff Dave Edmunds: "This is outside the boundaries of the Canyons Resort. They mark those boundaries very clearly. The Canyons has done everything right here; they've been extremely cooperative with us. Those folks that decided to go outside the boundaries did so at their own peril and it may have cost them their life."
The Utah Avalanche Center warned of considerable avalanche danger Friday, which means human triggered avalanches were probable.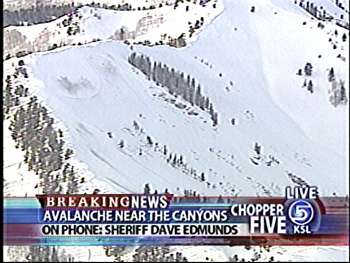 "We're recommending people avoid being on or underneath any steep slopes," Tremper said.
"It underscores just how dangerous the backcountry is right now," Edmunds said.
A series of storms lasting over two weeks dropped 6-8 feet of wet, heavy snow on the Wasatch mountains, setting up prime avalanche conditions.
Television coverage of the rescue scene showed volunteers and rescue dogs fanning out over the Dutch Draw area.
Since December 10th, six people have lost their lives in avalanches. 22-year old Zachary Eastman of Cottonwood Heights was skiing near Grizzly Gluch in Big Cottonwood canyon when a slide broke loose and trapped him.
The very next day 42-year old Russel Troy Tolbert of Alpine was snowmobiling in Trout Creek near Strawberry Reservoir and lost his life.
The next day, December 12th, two men were snowshoeing in Big Cottonwood Canyon when they were buried. They are 59-year old Bruce Quint and 32-year old Mel Denis.
Then we jump to January 8th when David Wayne Johnson of South Jordan died snowmobiling on Mt. Pleasant. That same day 26-year old Luke Gordon died snowboarding near Ephraim.
(The Associated Press Contributed to this Report.)
×
Most recent Utah stories