Estimated read time: 2-3 minutes
This archived news story is available only for your personal, non-commercial use. Information in the story may be outdated or superseded by additional information. Reading or replaying the story in its archived form does not constitute a republication of the story.
Sam Penrod ReportingThe weather from this week continues to be a major situation in Washington County. Today work began in an effort to get the area a Presidential Disaster Declaration.
Only 162 flood insurance policies exist in Washington County, exactly how many homes that were destroyed or damaged actually had flood policies is still not known.
People there are hoping for some federal help and by all indications they will get it. But it will only cover 75 percent of the costs, and it will be up the local government to oversee the rebuilding process. And that process will take time, so officials are asking victims to be patient.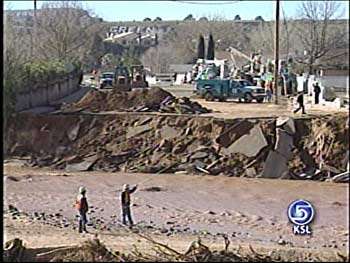 From one location of devastation to another, officials from FEMA officials began looking at just how bad the damage is throughout Washington County. Today local officials say yesterday's estimate of 86 million dollars in damage could easily double.
Dean Cox, Emergency Management Director, Washington County: "Virtually every assessment I see is getting larger and larger as we begin to assess the full scope of the damages."
Local, state and federal officials held a conference call this afternoon to communicate their progress. A preliminary report should be finished by tomorrow night and then forwarded onto the Governor who will submit it to Washington, asking the President to declare Washington County a federal disaster area.
Meanwhile an effort is underway to shore up areas of the riverbank, to protect other homes that could still wiped out.
Kent Prestwich, Developer: "We have ten homes that are definitely gone, and five more that are going to go if we don't get something done, because the damage was so great to the riverbank when it undercut us."
Utility crews are already in the process of restoring power and communication lines in this Green Valley neighborhood, all of it lost when the road and bridge were washed away. Overall, officials there are pleading for residents to be patient and to understand it will be a long effort to get the area back to normal.
Dean Cox: "This is a tremendous loss for our county and so we are going to have to work together with FEMA and state agencies as we try to put our lives and our cities back together."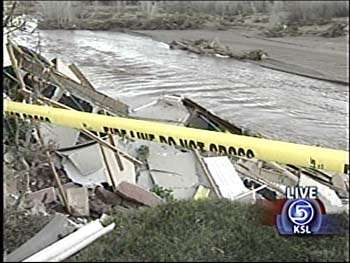 Other developments today include the news that road crews have made a temporary fix on the bridge near the town of Gunlock, so there is a passable road for residents to get in and out now. And divers began the search today near Quail Creek, for a 61-year old man presumed drowned on Monday when his vehicle got caught in high water.
A huge volunteer effort is scheduled for tomorrow as well. If you are volunteering or have volunteered in the cleanup, please call the Volunteer Line at (435) 628-9081.
×
Most recent Utah stories