Estimated read time: 2-3 minutes
This archived news story is available only for your personal, non-commercial use. Information in the story may be outdated or superseded by additional information. Reading or replaying the story in its archived form does not constitute a republication of the story.
Kimberly Houk Reporting It's no secret that teens are not the safest behind the wheel of a car, but there's a local company who thinks they've come up with a way to keep teens from coming to a crashing halt.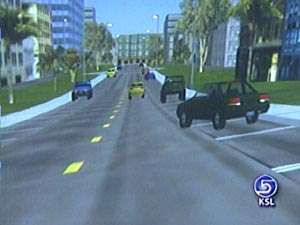 What better way to teach kids how to drive then to put them in very realistic situations? So some 15-year olds are going to start learning to drive in cars with loud music, talking friends, and of course, a constantly ringing cell phone.
A ringing cell phone, what teen could resist, even while driving in heavy traffic? It's a distraction that could lead to the most common accident -- a rear end collision -- a teen's biggest driving mistake. But it's not the only distraction.
With so many distractions to juggle, and very little driving experience, would teens be safer if they were taught to drive in the midst of constant chaos?
Welcome to the latest in technology aimed at doing just that. It looks like a glorified video game, but one that may save your kid's life.
Renee Slick, Ph.D., Psychology Professor: "Put them in situations that we can't practice in the real world."
From a ringing cell phone at a time when a car pulls out in front of the driver, the simulator is hoping that different scenarios will give kids the chance to decide now the best choice to make before they are confronted with it for real.
Renee Slick, Ph.D.: "The simulator helps them understand those sorts of scenarios and how their behavior and their choices can impact and perhaps cause a crash."
It's an education that could turn out to be priceless should it help reduce the number of teen involved crashes, and possibly lead to more realizations like these...
Mason Payne, Student: "I had a life-threatening experience shifting over, and somebody honks their horn. I almost hit them, and it was like, 'Oh, I'm checking my blind spot from now on.'"
×
Most recent Utah stories