Estimated read time: 2-3 minutes
This archived news story is available only for your personal, non-commercial use. Information in the story may be outdated or superseded by additional information. Reading or replaying the story in its archived form does not constitute a republication of the story.
Jed Boal ReportingSearch crews probed the debris field of a deadly avalanche near The Canyons resort a third day with no new success. The slide Friday killed at least one snowboarder. His body was recovered yesterday. Search teams kept looking today for anyone else who might have been swept down in the avalanche. But Monday afternoon they announced they're scaling back the operation.
Search teams headed up the mountain to Dutch Draw, armed with probes and their search dogs. But the Summit County Sheriff says it now appears likely the avalanche killed only one snowboarder.
More than 50 searchers returned to the area of the massive avalanche. The debris pile is 30 feet deep and 16 acres large, nearly a two miles around.
They found the body of a snowboarder yesterday morning, and witnesses led the Summit County Search and Rescue to believe they were looking for more. They've cleared all but three names on their list, but do not believe those individuals are buried in the slide.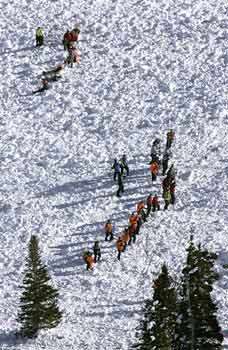 Dave Edmunds, Summit County Sheriff: "We are going to be moving into a continued limited search which means we will not be operational to the extent we have been. We will have people up on the hill from time to time. We could ramp it back up if we get information to lead us to believe someone is in the debris field."
The snowboarder recovered yesterday was Shane Maixner who was living in Idaho. If the county gets an alert from the family of a missing skier or snowboarder they may use ground-penetrating radar to continue the search.
New signs showed up at the top of the lift on 99-90 at the Canyons; they warn of potential fines for venturing into the backcountry. Sheriff Edmunds repeated that he believes the resorts are doing a good job of warning skiers of potential backcountry danger.
Dave Edmunds, Summit County Sheriff: "We don't think there is anything else that can be done. We think the resorts do an outstanding job of keeping people out to the best of their ability, and that's our stance on that."
This was a tough search in a mountain of debris that is hardening like cement, and avalanche danger remains high.
×
Most recent Utah stories