Estimated read time: 2-3 minutes
This archived news story is available only for your personal, non-commercial use. Information in the story may be outdated or superseded by additional information. Reading or replaying the story in its archived form does not constitute a republication of the story.
Richard Piatt Reporting"This is a nomination that I think everyone realizes is one of the president's best."
Mike Leavitt is once again poised to take a political promotion and run with it, this time as the head of one of the largest Federal agencies. Leavitt is poised to take over as the Secretary of Health and Human services, a massive agency with a budget of more than 580 Billion dollars.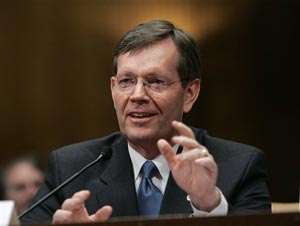 Today, Mike Leavitt was on the hot seat in a confirmation hearing. The senators in the Health Education Labor and Pensions committee have serious questions for Mike Leavitt. But his hearing couldn't have been any smoother. If that's any indication, his political promotion could happen this week.
Governor Leavitt has friends on Capitol Hill and not all of them are Republicans. Before the hearing, Senator Ed Kennedy--a frequent critic of President Bush-- greeted nominee Leavitt like an old friend. Kennedy says he finds Leavitt a capable leader.
Sen. Edward Kennedy, (D) Massachusetts: "I think the governor is resourceful and I think he knows how to get things done, and I think he can be enormously helpful in getting things achieved."
At the hearing Kennedy had a chance to swipe at Bush administration policies.
Sen. Edward Kennedy, (D) Massachusetts: "The administration's tax cuts for the wealthy and its misguided war in Iraq have created a catastrophic deficit, but it would be unconscionable to solve the budget crisis by penalizing the poor and the elderly."
In fact, senators from both parties also peppered Leavitt with serious questions about how he would handle serious issues as Secretary of Health and Human Services. Leadership for the FDA, Medicare and Medicaid, prescription drug prices and policies, medical liability, the uninsured; just a few of the 300 programs Leavitt would oversee. And Leavitt says he's ready to take them on with "rigor".
Michael Leavitt, Nominee, U.S. Health and Human Services: "I welcome it. That discussion needs to be bold and transformational. And we can start with medical liability, something that badly needs to be improved."
Leavitt must endure another similar hearing -- The Senate Finance Committee Wednesday. In the end, not even partisanship looks like it will stand in the way of full confirmation.
Sen. Robert Bennett/(R) Utah: "People saying they might hold up the hearings in protest of what the president's doing, but they're making it very clear they don't have anything at all against Mike Leavitt, and I think that's significant."
Leavitt is not allowed to speak to the media until after his confirmation is complete. But his aides say they're hoping a vote in the full Senate will come as early as tomorrow night.
×
Most recent Utah stories