Estimated read time: 1-2 minutes
This archived news story is available only for your personal, non-commercial use. Information in the story may be outdated or superseded by additional information. Reading or replaying the story in its archived form does not constitute a republication of the story.
Richard Piatt Reporting The American Fork High School band is part of the Presidential Inaugural festivities. The band is one of 55 high school bands nationwide selected to march and play in tomorrow's Inaugural parade.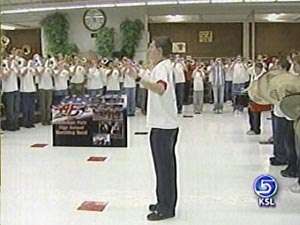 The band is psyched up and ready to play tomorrow. So ready, in fact, that they spent today not rehearsing, but sightseeing the nation's capitol. The band's whirlwind tour of Washington timed out to be during a swirling snowstorm. But for these young musicians that are American Fork's High School band and their parents, it's worth it.
Katrina Clegg, Band Parent: "The weather's a little cold, but some of these kids will never ever experience this again."
The Lincoln Memorial is just one place they've seen in movies and on TV, but not in person. As impressive as it is to find out the Gettysburg Address is etched into the walls there, it's also starting to hit them that being part of the President's Inauguration is pretty impressive too.
James Boyer, Drum Major: "I don't think I realized how big a deal this was. And I don't think I will until we get out on the street and see everyone standing there."
McCall Young, Saxaphone Section Leader: "It's a lot bigger than I thought it would be. And I was thinking, tomorrow we'll actually be marching down Pennsylvania Avenue."
The band has worked hard, raised $157,000 for the trip, and rehearsed a lot. They're ready to show off what they've got, and march in the President's parade.
As performers they're also worried about the weather. It was a blizzard earlier--and cold. But none of them seem too worried about it. More than one of them simply said: The show must go on.
×
Most recent Utah stories