Estimated read time: 2-3 minutes
This archived news story is available only for your personal, non-commercial use. Information in the story may be outdated or superseded by additional information. Reading or replaying the story in its archived form does not constitute a republication of the story.
Ed Yeates Reporting"If it wasn't for that, I could have a been unconscious and could have died."
A father owes his life to his five-year old son today. The boy called 9-1-1, continually updated his father's condition, and guided the EMT's to the right address.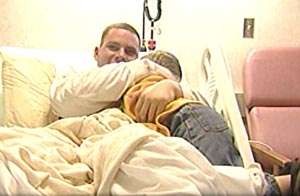 Aaron Farris slipped into diabetic shock late last night at his apartment. But his five-year old son knew what to do if the time ever came when he couldn't wake up his dad.
Aaron Farris is doing well tonight at St Mark's. Barring any complications, which at this point doctors don't expect, he'll be released tomorrow. Aaron didn't know what role his son played in saving his life until he woke up and was recovering in the hospital. He never thought his son would remember what he taught him.
Aaron Farris: "Never really thought it would ever happen or that he would ever remember to do it. But apparently he did really good."
Late last night at his apartment, 5-year-old Crue Farris knew something was wrong when he couldn't wake his dad. He dialed 9-1-1 and began dishing out information to the dispatcher.
"911 - Do you have an emergency?"
"I want my dad to wake up and he's not waking up."
When Crue was asked to keep checking on Aaron's condition, he did and reported such to the voice on the other end of the phone.
Crue Farris: "Daddy doesn't have sugar because he always keeps sleeping and closing his eyes."
Even when asked specific questions, Crue checked and replied.
Crue Farris: "'Did his nose keep breathing?' And I said yes."
Capt. Cliff Whittaker, EMT Rescue, Unified Fire Authority: "Had he not called, he could have been there all night long, and that could have cost him his life. And little Crue could have just as soon went in and curled up and went to sleep. And instead he did exactly what he was taught to do. And he did a great job of it."
While Crue didn't know the name of the apartment complex, he knew the exact address and the apartment number. EMT's from the Unified Fire Authority had no trouble finding it. Small, unpredictable as only a five-year old can be. But a hero? You bet!
Aaron Farris: "He just did it all on his own."
×
Most recent Utah stories