Estimated read time: 2-3 minutes
This archived news story is available only for your personal, non-commercial use. Information in the story may be outdated or superseded by additional information. Reading or replaying the story in its archived form does not constitute a republication of the story.
Shelley Osterloh ReportingThe biggest event in Speedskating since the Olympics comes to Utah this weekend. It's the World Sprint Speedskating Championships. More than 60 of the best sprint skaters in the world are here to size up the competition before the Games next year, and to claim the title "World Champion."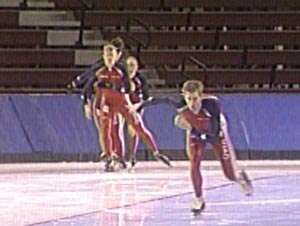 For the eight American athletes competing in the World Sprint Speedskating Championships this is an opportunity to once again show their strength as individuals and as a team. Of the eight, five are Olympic medalists looking ahead to the next Olympics in Torino.
In 2002, Casey FitzRandolph took the gold in the 500, and Kip Carpenter the bronze.
Casey FitzRandolph, Olympic Gold Medalist: "If you succeed at the Worlds, that bodes very well for next year. I mean, it's a whole year, yes, but it's a great step along the way. And it's the biggest step we'll have to date on the way to Torino."
Kip Carpenter, Olympic Bronze Medalist: "The American team is going to do great this weekend."
World championships is the most important event in a non-Olympic year. And these athletes are excited to have this event on American ice.
Chris Witty, Olympic, Gold Medalist: "Something special to skate in front of the home town. We don't get, I mean, we have fans all over Europe and other parts of the world, but nothing like it is here."
Joey Cheek, Olympic Bronze Medalist: "It's really a big deal, to me especially because the World Championships are in our home country this year. SO you always want to do good in front of your family and friends in this place where I won my Olympic medal."
Many of these American Speedskaters call Utah home. Though they travel the world for competition, they train here at the Utah Olympic Oval. But this weekend the fastest sprint skaters from around the world will all take to the ice in races that take less than a minute and a half and are decided by hundredths of a second.
Jen Rodriguez, Two Olympic Bronze Medals: "It is so technically challenging, physically challenging, mentall challenging, very tough sport. And when you skate well, when everything comes together, there's not a better feeling in the world and finally it's all paid off."
The competition runs two days--Saturday and Sunday --and each day all competitors will race in the 500 meter and 1000 meter events. Results are cumulative and the fastest will be named World Champion.
Races at the Utah Olympic Oval start at noon on Saturday and Sunday. Tickets are only $5 for adults, $3 for children and seniors. You can pick them up at Smith-tix.
×
Most recent Utah stories