Estimated read time: 2-3 minutes
This archived news story is available only for your personal, non-commercial use. Information in the story may be outdated or superseded by additional information. Reading or replaying the story in its archived form does not constitute a republication of the story.
Tonya Papanikolas reporting A 3-year-old little boy is back with his family today after an attempted kidnapping.
Michael Hawkes, Kaden's Uncle: "I was having some horrible thoughts, you know. I mean, what if he wasn't with us any more?"
It's another Utah Amber Alert success. In this case, the little boy was taken by a family friend.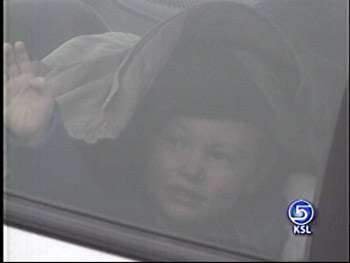 Kaden Biggs' mom arranged for her son to spend the night at his aunt's house yesterday. His aunt sent her ex-boyfriend, Bob Greene to pick him up. Greene showed up to get Kade, but two hours later, he hadn't dropped him off yet.
That began the frantic search that didn't end until this morning, when Greene was booked into the Salt Lake County jail.
Gloria Hawkes, Kaden's Grandmother: "I'm glad we found him. He's our pride and joy."
It was an emotional day for the family of 3-year-old Kaden Biggs. His two grandmas hugged and sobbed after learning he was safe.
Gloria Hawkes, Kaden's Grandmother: "He's been up all night, he acts real tired. He acts like he didn't know where he was. And just, happy to hold momma and both the grandmas."
Kaden's family held him tight and covered him with a coat as they brought him out of the police department. But once inside the car, he looked like a happy boy, smiling and waving to the media. His mother was just relieved to have him close.
Kimberly Biggs, Kaden's Mother: "I'm so thankful for everyone who did everything they could to help."
An Amber Alert was issued just after 1:00 a-m. Freeway signs warned drivers to look out for a white Oldsmobile Alero. The suspect was identified as 26-year-old Bob Lee Greene. He's the ex-boyfriend of Kaden's aunt Tamara.
The family knew he'd picked up Kaden, but didn't know where he went. And they suspected he was on drugs.
Tamara Bates, Kaden's Aunt: "Bob, I know you have him... I don't care what you do, you need to bring my nephew home."
Kyle Biggs, Kaden's Uncle: "He's such a sweet boy, he don't deserve this."
Sherrie Poole, Kaden's Grandma: "We love you and we miss you. Please come home."
Greene is a known sex offender and drug abuser. So detectives worked around the clock to locate him.
About 8 this morning, Greene went to his parent's house with Kaden. He was arrested, leaving his ex-girlfriend's family stunned and angry.
Tamara Bates: "He went and got high, i know he did. It's the drugs. And he's gonna face the consequences for it."
MIchael Hawkes, Kaden's Uncle: "I don't see why, how someone could do this, I don't. Especially to a little kid, a helpless little boy."
Greene was on parole and didn't check in with his parole officer last night. He told someone he knew that he stopped at a friend's house for the night after Kaden threw up.
Kaden was evaluated at the hospital this afternoon, and family members say they do not believe he was sexually assaulted.
×
Most recent Utah stories