Estimated read time: 2-3 minutes
This archived news story is available only for your personal, non-commercial use. Information in the story may be outdated or superseded by additional information. Reading or replaying the story in its archived form does not constitute a republication of the story.
Kimberly Houk reporting The family of the B-Y-U hockey player who died during a game Friday night, met with their son's teammates today in Provo.
It was a highly emotional meeting between the players and family members. But Jaxon Logan's parents wanted to meet face to face with his teammates where their son's life came to a tragic end.
Jaxon Logan's parents never thought they would one day be standing in front of a memorial surrounded by flowers and lighted candles, staring at a picture of the little boy they watched grow up to be a 19 year old man.
Michael Logan, Father: "I still can't believe it."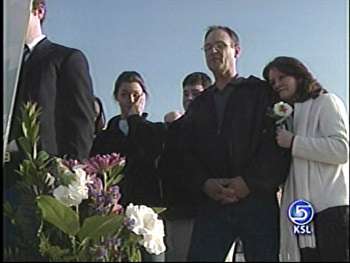 His sudden death was shocking. Outside Seven Peaks Ice Arena in Provo, Logan's mother comforted the last people to see the son alive: His teammates.
Logan's friends watched him take his last breath after a hockey puck hit his chest. The blow was so forceful, it caused his heart to start beating irregularly, and sent him into cardiac arrest.
Michael Logan, Father: "He was a best friend - he was somebody you could talk to. "
Darcy Logan, Mother: "There was something about him that was just unique and special. "
And it was the good times his family spent the day remembering.
Dealing with their grief, consoling each other and their son's teammates. Grief counselors were brought in to help both teams cope.
The Northern Colorado University's coach says the player who hit the slap shot that struck Logan is taking this very hard. Today, Logan's mother had this to say to him.
Darcy Logan, Mother: "I wish i could see him and give him a hug, and let him know that our hearts are with him and with his family."
And seeking strength through her faith is what's bringing some peace to a mother in need.
Darcy Logan, Mother: "This morning, I could see him, and he was smiling - so I know he's ok."
Michael Logan, Father: "I know where he is, and I know that someday I'm going to be there with him."
×
Most recent Utah stories