Estimated read time: 2-3 minutes
This archived news story is available only for your personal, non-commercial use. Information in the story may be outdated or superseded by additional information. Reading or replaying the story in its archived form does not constitute a republication of the story.
Sam Penrod ReportingA tearful sendoff this morning for about 500 members of the Utah National Guard. The Triple Deuce is being deployed to the Middle East on a mission expected to last 18 months.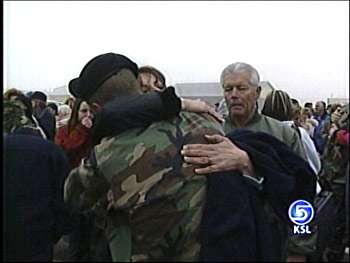 Standing at attention, members of the 222nd get their final orders as they prepare to board a plane to active duty. But these soldiers are not alone, hundreds and hundreds of family members and friends are there to give them support. With a high school band playing patriotic music, guardsmen gave hugs and shed tears as they said goodbye to their families.
Allen Henrie, Two Sons Deployed: "I don't think I've ever had a harder day. I'm very proud of what they are doing. They know they are willing to fight for freedom…"
Allen Henrie has two sons who are leaving for active duty. One of them just became a father on Friday.
Marc Henrie, 222nd Utah National Guard: "We just had our first baby on Friday. We're excited for that, but we understand, we have a lot of support from our family."
Gov. Jon Huntsman: "They believe in freedom, liberty, democracy. We're proud as a state to make a contribution to a larger cause."
The 222nd has units in Richfield, Beaver, Cedar City and St. George. This call-up affects soldiers in almost every town in southern Utah.
Brandi Dickinson, Husband Deployed: "It's hard for us all, but it's what we signed up to do."
And while these soldiers know it will be tough and a sacrifice to be away from home for the next 18 months, soldiers say they will do what it takes to keep their families and country free.
A second wave of troops will leave tomorrow. The 222nd will spend the next five months training in Mississippi and are expected to deployed in Iraq by the fourth of July, where they will be stationed for 12 months.
×
Most recent Utah stories