Estimated read time: 2-3 minutes
This archived news story is available only for your personal, non-commercial use. Information in the story may be outdated or superseded by additional information. Reading or replaying the story in its archived form does not constitute a republication of the story.
Carole Mikita ReportingAt the opening of the Sundance Film Festival Robert Redford told a Salt Lake audience that, as always, the documentaries are the strongest films. One of this year's is a compelling story focused on faith.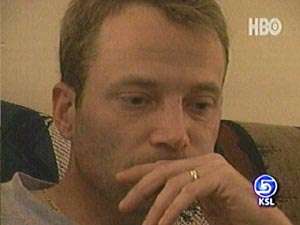 The story is one man's struggle against evil within his church; 'Twist of Faith' focuses on surviving abuse. Tony Comes believed that if it was ever going to stop, change had to come from within, from the true believers, even if they had been badly abused.
Tony Comes, "Twist of Faith", Sundance Film Festival Documentary: "We'd come up here, drink, eat, shoot pool. Part where it gets weird is Sunday morning wake up and some guy's violating you. Then a half hour later you take a shower and a half hour after that, everybody who's up here, sometimes families included, are sitting around in the living room up there and he's saying mass."
Tony Comes, a 34-year-old husband, father and Toledo, Ohio firefighter is a survivor of sexual abuse by a Catholic priest. He kept it a secret for more than 20 years. Now his story is a Sundance documentary
Tony Comes: "I wanted to do what I knew was the right thing, for first and foremost, myself, and then my family, and then somebody I don't know. If one person can go to sleep at night and close their eyes and not have to relive something…that's all I wanted."
He remains a loyal Catholic and says he still recognizes all of the overworked and underpaid priests, nuns, teachers and custodians. He also did this for them.
Tony Comes: "Instead of running, stand your ground. Claim your ownership of what you claim to believe, in what you hold dear, the cornerstone of your life."
Filmmaker Kirby Dick says he had never encountered trauma like this before; he is still stunned by the pain he sees in Tony's eyes.
Kirby Dick, Director, "Twist of Faith": "That's the thing that was most profound to me, is how these people will struggle with this their entire lives, and how important it is that the church and the entire country actually reach out to these people rather than fighting them."
As for Tony Comes, this experience, at first frightening, has been cleansing.
Tony Comes "I've reclaimed a part of myself. And hopefully can turn that into being a person I imagine as a husband, a father, a worker -- a do-the-right-thing, ah-shucks kind of guy."
Tony Comes says this is not an indictment of the Catholic Church; he is still a man of faith.
There are more screenings in both Park City and Salt Lake.
×
Most recent Utah stories