Estimated read time: 2-3 minutes
This archived news story is available only for your personal, non-commercial use. Information in the story may be outdated or superseded by additional information. Reading or replaying the story in its archived form does not constitute a republication of the story.
Jed Boal ReportingDo you get frustrated with long delays when you drive to work? Commuters on I-15 in the Salt Lake Valley now have more information on just how long it will take to get where they're going.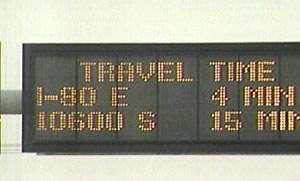 The new information on the electronic signs won't get you through traffic any faster, but you will have a better idea of how long it will take to get there. They are signs of the times, literally. The electronic roadway signs on I-15 now tell you how long it will take to get from that point to upcoming exits or interchanges.
The signs between downtown Salt Lake and 106th South will post the information from 6 a.m. until 9 a.m., and in the evening from 3:30 until 7:00. UDOT wants to give motorists as much information as possible and offer some peace of mind.
Brent Wilhite, UDOT: "Sometimes it feels like you're never going to get there, like I'm stuck in traffic all the time. But having that figure up there, knowing that it's only 17 minutes to my destination, I can relax."
With that information, UDOT hopes motorists will realize that speeding and jockeying for lane position will have little effect on the travel time.
Brent Wilhite: "It lets everybody know they're on the same page. You don't have to try to speed up or get ahead of everybody else. Just relax and don't get frustrated in traffic."
Sensors embedded in the road surface pick up traffic flow data. Computers crunch the numbers, automatically send the travel time to the signs, and update the info every minute.
You might have noticed some slowdowns by the signs this morning, but UDOT does not think that will last long.
Brent Wilhite: "People aren't used to seeing this stuff, so after the next couple of days, that delay may drop down. People will look up at the sign, get the number and traffic will be less impacted than it was this morning."
It's a six-month program. If it works well UDOT will expand it to the electronic signs on I-80 and I-215, then on to Davis, Utah and Summit Counties. The information is also available on the Commuterlink website
×
Most recent Utah stories