Estimated read time: 2-3 minutes
This archived news story is available only for your personal, non-commercial use. Information in the story may be outdated or superseded by additional information. Reading or replaying the story in its archived form does not constitute a republication of the story.
Samantha Hayes Reporting Several downtown residents are in the dark tonight after an electrical fire blew out power in the American Towers building. Utah Power was there working to restore power to about 10 floors of the building. It is just the latest issue with a fire that was quickly under control, but caused quite a lot of commotion.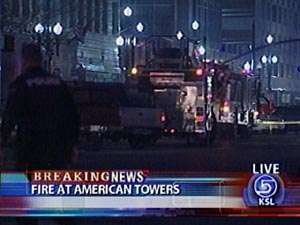 Scott Freitag, Salt Lake City Fire Dept.: "We know on arrival the fire was out."
But the smoke kept on coming, and if this is the building where you live, no matter what firefighters say, its scary.
"We weren't asked to evacuate. By the time I came down I was just watching all the smoke come out and it freaked us out. So we thought we'd feel a little better being on the ground."
The Salt Lake City fire department felt better having more back-up than they needed.
Scott Freitgag: "When you hear smoke downtown, possible coming from a high-rise, you send enough resources, rather than send more than you need than not have enough."
The fire started next door in the American Plaza Parking garage.
Paul Gomez, Witness: "He was telling us not to go out to the parking garage."
An electrical box inside shorted, but the garage's automatic system put the fire out quickly. And fire alarms did not go off.
Scott Freitag: "These residents need to understand what happens when that system goes off, had it gone off, it didn't need to, but had it gone off we would have had 100 or more people on the street that didn't need to be on the street."
As a safety precaution, only the first two floors of the high-rise were evacuated.
Jamie Bowen, Resident: "There was smoke in the stairwell and the elevators were shut down."
Those folks are back inside, but again, many are without power because of that electrical box-- which happens to be an expensive piece of equipment to fix--$25,000.
×
Most recent Utah stories