Estimated read time: 1-2 minutes
This archived news story is available only for your personal, non-commercial use. Information in the story may be outdated or superseded by additional information. Reading or replaying the story in its archived form does not constitute a republication of the story.
Kimberly Houk ReportingTwo lunchroom workers were badly hurt this morning while they were trying to fix lunch for students at Indian Hills Middle School in Sandy.
Two women were burned by hot steam and 180-degree water that came spraying out of a dishwasher in the lunchroom at Indian HIlls Middle School, and it happened right in front of their co-workers, who were traumatized after they watched the ladies get taken away in an ambulance.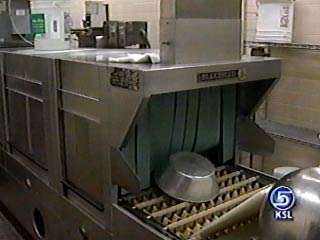 Mike Veenendaal, Sandy City Fire Chief: "Apparently a couple of the cafeteria workers opened up a dishwasher with some hot steam. They were burned with first and second degree burns. The two workers have now been taken to the hospital."
The lady with first-degree burns is recovering at Alta View Hospital. While the woman with second degree burns was rushed up to the University of Utah's burn unit. Both women are obviously in a lot of pain, but they have been treated and released from the hospital.
Grief counselors were brought in to help the other workers in the lunchroom who witnessed the accident cope with it emotionally. And those counselors will be back again tomorrow to help.
The Jordan School District says they've never had any workers get burned while using the industrial dishwashers they have in their lunchrooms. But they say the dishwasher in this particular school is older and it doesn't have an automatic safety turn off, something that may have prevented it from spraying the incredibly hot water.
×
Most recent Utah stories