Estimated read time: 2-3 minutes
This archived news story is available only for your personal, non-commercial use. Information in the story may be outdated or superseded by additional information. Reading or replaying the story in its archived form does not constitute a republication of the story.
Carole Mikita ReportingFrom stage to screen, one of this year's premier films at the Sundance Film Festival began as a hit play. From off-Broadway to the festival, this film has a host of stars, one of them from NBC's 'Law & Order". It is an autobiographical story that takes place in Lackawanna, New York before desegregation.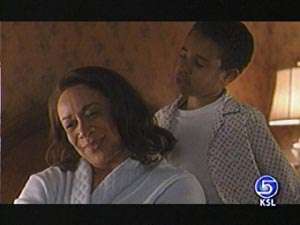 A stellar cast, an award winning director, and an off-Broadway hit play combined to create one of the premiere films at Sundance. With so many interesting characters, it's hard to imagine that this started as a one-man show.
Ruben Santiago-Hudson, "Lackawanna Blues" Screenwriter, Actor: "The word got around and HBO came in and they said, 'What do you want to do with this?' and I said I would like to flush it out into a real film and see other actors have their take on my characters."
When he wrote the screenplay, he already knew who would take the key role.
S. Epatha Merkerson, "Lackawanna Blues": "It came around to my playing nanny, which is a beautiful, beautiful character."
Merkerson knows well-written moments. She has been one of the stars of 'Law and Order' for 12 years, with her groundbreaking character of Lt. Van Buren.
S. Epatha Merkerson: "Van Buren is a really strong presence. She's not an in-the-way presence. She can be nurturing at times. Lately we've seen more of her sense of humor and I think people believe that and they appreciate it, and especially young women."
The man who directed Merkerson and a cast including Louis Gossett, Jr. and Jimmy Smits has two Tony Awards but this is his first film.
George C. Wolfe, 'Lackawanna Blues' Director: "The material is just so extraordinarily rich and the cast is just so brilliant and dazzling to work with. It wasn't so much dealing with how difficult it was but just excited and intrigued."
It premiers tonight in Park City.
×
Most recent Utah stories