Estimated read time: 2-3 minutes
This archived news story is available only for your personal, non-commercial use. Information in the story may be outdated or superseded by additional information. Reading or replaying the story in its archived form does not constitute a republication of the story.
Coco Warner ReportingThis was an emotional day for a Utah National Guardsman-- he became an American citizen and in a few days will be heading off to War.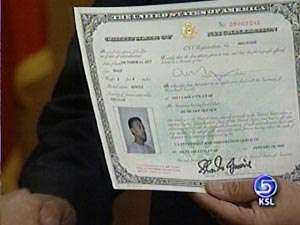 All naturalization ceremonies tend to be poignant, but today's ceremony was maybe even more so than usual. Dung Nguyen was born in Vietnam; today he finally realized his American dream-- and now he heads to war-torn Iraq, where he will fight for that dream for others...
With loved ones and his beloved Guard unit looking on, 28-year old Dung Nguyen took an oath today and officially became a citizen of the United States of America.
Dung Nguyen, Utah National Guard: "It felt good. I'm finally an American now, so it feels good."
It's been a long journey-- in 1984 his family immigrated to the U.S. from Vietnam, first moving to Logan, Utah and then settling in Orange County, California.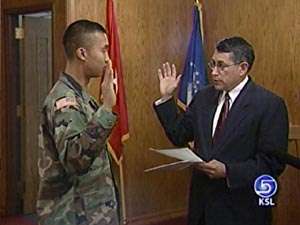 Dung Nguyen, Utah National Guard: "I am just happy to have this paper, it's official now; I am an American so."
Dung Nguyen enlisted with the Utah National Guard in 2003, he's part of the 115th Maintenance Company. If there's a cloud hanging over today it's only because Monday morning, Dung and his company head to Ft. Bliss for a month, before being deployed to Iraq for at least one year. But he sees in the assignment as a silver lining.
Dung Nguyen: "It's been my long-time dream, plus the war going on, I just want to go over there and help out the guys."
And while his family and friends are proud of his service, they look forward to his safe return.
Dung Nguyen: "That I will bear arms on behalf of the United States, when required by the law."
Jennifer Konsevanh, Girlfriend: "Day to day I'm dealing with it, it's just something I have to go through. I have to be strong, I'm doing good."
Tuyet Nguyen, Sister: "We hope-- everything okay."
The Utah National Guard says Utah Senator Bob Bennett's office was instrumental in the timing of today's ceremony. Since 2002 12,000 immigrants in the U.S. Armed Services have taken advantage of an executive order that expedites their naturalization process.
×
Most recent Utah stories