Estimated read time: 2-3 minutes
This archived news story is available only for your personal, non-commercial use. Information in the story may be outdated or superseded by additional information. Reading or replaying the story in its archived form does not constitute a republication of the story.
Jed Boal ReportingBackcountry gear took center stage today at the Outdoor Retailer demo day at Brighton. Ski any resort in Utah these days and you'll spot telemark skiers ripping the most aggressive lines.
Molly Douma, Salt Lake Tele Skier: "Watching a good telemarker ski is inspiring."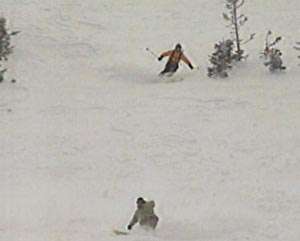 And these are the top stars of freeheel skiing, the top professional athletes in a sport that's steadily gaining momentum on the mountain.
Molly Douma/Salt Lake Tele Skier: "It is really a challenge you take on. You can't learn it in one day. It's a process."
With traditional downhill skis the binding clamps the heel to the ski. Telemarker are "free-heel" skiers, allowing more maneuverability. A lot of skiers are giving it a try and sticking with it.
Andy Jacobsen grew up skiing the Wasatch Mountains.
Andy Jacobsen, Salt Lake Tele Skier: "It's fun, it's versatile, you can ski in the backcountry, you can ski the resort. The gear's gotten a lot better."
Josh Madsen, Salt Lake Tele Skier: "It's pretty easy to promote. Getting people to try it is the hard part, there's a little fear in trying something new. But with better equipment it's been easier to get people to try it."
Here's another reason for growth in the telemark skiing industry. A lot of people grew up skiing and snowboarding, and they're looking for something else to do on the hill.
Molly Douma, Salt Lake Tele Skier: "Here people get to ski a lot and they might get tired of their discipline, whether it's skiing or snowboarding. They see a telemark skier out there and it looks like fun, a new challenge."
Tough Guy Productions has been on the leading edge of promoting the sport, making extreme movies with these skiers.
Nat Ross, Ski Film Producer: "They promote the sport of telemark and this lifestyle; we live in the mountains to the general public."
For these skiers, a style that once seemed off-beat and very old school has carved out a niche that's decidedly cool.
The Outdoor Retailer Winter Market trade show is going on at the Salt Palace Convention center Saturday through Tuesday.
×
Most recent Utah stories