Estimated read time: 2-3 minutes
This archived news story is available only for your personal, non-commercial use. Information in the story may be outdated or superseded by additional information. Reading or replaying the story in its archived form does not constitute a republication of the story.
Samantha Hayes reporting In an instant, a Utah family's lives changed forever while on the interstate driving home to Fruit Heights.
"We've got a 28-year-old widow, with four little children," authorities explain.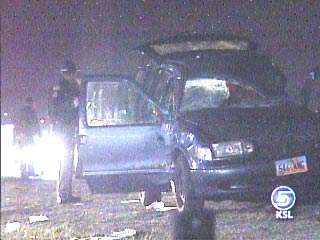 A semi-trailer's dual tires came loose this morning and slammed into the family's van.
The family was returning home from a family visit in Provo. On the opposite side of I-15 a semi truck pulling three trailers lost one of its wheels.
Just 20 minutes before the accident that took his life, Kimball Herrod called his father, Niles.
Niles Herrod/ Kimball Herrod's Father: "They were on their way home from Provo visiting Katherine's parents. They called us and we chatted with them."
Niles Herrod received another call just after 8:30.
Niles Herrod: "Shock. Disbelief. It's like a dream, a bad nightmare."
The family was on I-15 heading northbound when suddenly, and seemingly out of nowhere, a dual tire came over the concrete median.
Niles Herrod: "The impact occurred. My son was unconcious, and were at freeway speed. She had the presence of mind to reach over and apply the brakes and steer the car to the side of the road."
Kimball Herrod died after being flown to the hospital.
The dual tire, after hitting the van, bounced back over the median again, into southbound traffic, and into the path of Ted Garling's vehicle.
Ted Garling: "I slammed on my brakes and started fishtailing." "It was a very scary situation."
Scary, and in the eyes of highway patrol troopers, very strange.
Sgt. Jeff Willmore/ Utah Highway Patrol: "This is very unusual for a tire to come off and go into northbound traffic. We don't see this type of thing very often."
But it's also the type of thing that only had to happen once, to change the life of a family forever.
Niles Herrod: "A wheel comes off and flies across the median and smashes into you. It changes everybody's life."
UHP says it is trying to figure out why the semi lost the tire. Eyewitness News talked to the trucking company. It is also investigating the accident and the driver is reportedly off duty in the meantime.
×
Most recent Utah stories