Estimated read time: 1-2 minutes
This archived news story is available only for your personal, non-commercial use. Information in the story may be outdated or superseded by additional information. Reading or replaying the story in its archived form does not constitute a republication of the story.
Amanda Butterfield reporting Over 100 Utah National Guardsmen and woman are just landing in Texas this afternoon for training before they head overseas to Iraq.
The 115th Maintenance Company left from the Utah Air National Guard Base this morning.
There is 120 of them, and this morning they gave farewell hugs and kisses to their loved ones.
For 90 percent of them, it will be their first time in Iraq. The remaining ten percent have been before, and volunteered to go again.
These men and woman are part of a Maintenance Company. Once they land in Iraq, their job will be to fix anything the army needs.
Captain Budd Vogrinec/115th Maintenance Company: "From tanks to generators to armaments, and allied trade... Anything the army has to offer we repair."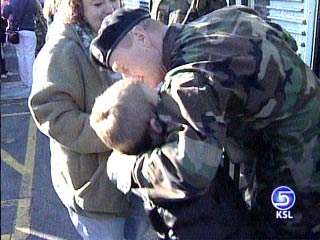 Several of the soliders are leaving behind husbands, wives, and young children. Sgt. Perrenoud will be leaving a total of four young kids.
Sgt. Perrenoud, Mechanic: "It's scary, and like I said I'll miss my family but we've got mission to do over there and I'll go do it."
Emily Perrenoud, Husband deployed: "I'm very proud, I just want him to come home safe, and get his job done, as I want all the soldiers to, we're very proud of them."
. The company will train at Fort Bliss for about two months, then head to Iraq. No word yet on where in Iraq they will be stationed.
×
Most recent Utah stories