Estimated read time: 2-3 minutes
This archived news story is available only for your personal, non-commercial use. Information in the story may be outdated or superseded by additional information. Reading or replaying the story in its archived form does not constitute a republication of the story.
Richard Piatt ReportingUtah's Envirocare landfill has new owners as of today, and those new owners say they reject 'hotter' hazardous waste coming into the state.
Saying 'no' to the so-called 'B & C' waste is one of the first things Envirocare's new owners are doing publicly. And now both the Legislature and the Governor are ready to seal the deal to keep that hotter waste out of Utah once and for all.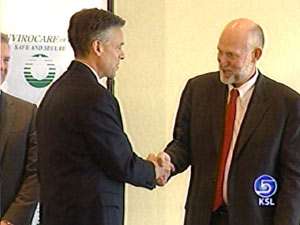 Envirocare's announcement marks the end to the waste battle--a political, legal, and environmental fight.
Lance Hirt, Lindsay Goldberg & Bessemer: "We are committed to banning hotter 'B&C' waste from the state of Utah."
With that, the landfill's new owners, A group of investors including Utahn Steve Creamer, handed Governor Huntsman a letter withdrawing Envirocare's application to accept the 'B&C' waste.
Right now the multi-million dollar Envirocare landfill accepts waste classified as "A", a low level of radioactivity. 'B&C' waste is controversial because it's more toxic and could present obvious safety problems if it's allowed in Utah. All are reasons the Governor is praising the deal.
Gov. Jon Huntsman, Jr.: "This is a good thing for the state of Utah. It's good for our people, it's good for our image, and it's the right thing to do."
The deal was also anticipated by leaders in the Legislature. A bill--Substitute Senate Bill 24--is already introduced at the Capitol, the next step toward solidifying the ban. Still, at least one longtime Envirocare critic is only 'cautiously' optimistic.
Jason Groenwald, HEAL Utah: "It's one thing for the company to say it, it's quite another for the legislature and the governor to enact it."
The investors insist they're doing what's right for Utah, period. They anticipate plenty of investment return from the waste Envirocare is getting now.
Lance Hirt, Lindsay Goldberg & Bessemer: "From day one it was not part of our business plan. And we were looking at this investment purely as an investment in 'A' waste."
The new Envirocare owners also announced they've bought out the Cedar Mountain landfill, a competitor.
×
Most recent Utah stories