Estimated read time: 2-3 minutes
This archived news story is available only for your personal, non-commercial use. Information in the story may be outdated or superseded by additional information. Reading or replaying the story in its archived form does not constitute a republication of the story.
Ed Yeates ReportingA group of Utah engineers may have revolutionized the way cyclists pedal through a race or down a mountainside. They've developed a remarkable, incredibly light bicycle frame, like no other you've seen.
BYU engineering senior Tyler Evans is riding a bike he and his colleagues made. A bike that could change the face of cycling. The frame is made with a unique open, free flowing matrix of composite materials, over-wrapped with kevlar fibers. The bicycle is extremely strong, but very light.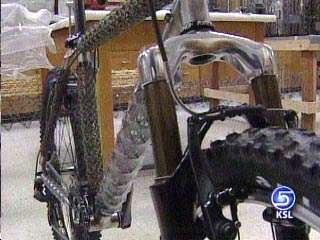 Once BYU engineers move from this prototype into a final product, in which this matrix component makes up most, if not all of the bicycle frame, it will weigh under three pounds.
Tyler Evans, BYU Civil Engineering: "There are very few mountain bike frames that have gotten below three pounds, and we're hoping to come well below that – even as far as 2.8 pounds, or maybe even more."
Air moves through the matrix, giving a road bike more aerodynamics. On a mountain bike a covering would keep the inside free of mud and dirt. Bicycles, structural towers and pillars like these don't matter! A single weave may hold 6100 pounds, while another...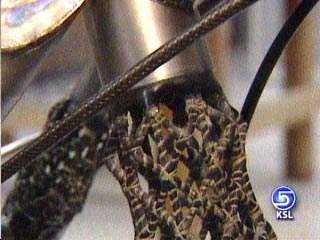 Dr. David Jensen, BYU Civil Engineering: "This will hold 3800 pounds, which is more than a typical automobile sitting on top of this one cylinder."
For now, lightweight Iso Truss, as it's called, is weaved by hand, but BYU is developing a hi-tech machine that eventually will do it all.
Everybody seems to like riding the prototype, as does a major bicycle manufacturer negotiating soon to get a product on the market. Aircraft companies are also looking at this stuff as a way to lighten up planes.
BYU engineers say "IsoTruss" bicycles will compete with the best, but cost less - a third to half the price of current top line bikes.
×
Most recent Utah stories