Estimated read time: 2-3 minutes
This archived news story is available only for your personal, non-commercial use. Information in the story may be outdated or superseded by additional information. Reading or replaying the story in its archived form does not constitute a republication of the story.
Sam Penrod ReportingProvo police are looking for suspects after someone tried to abduct a 14-year old girl as she walked to school Friday morning. The girl was approached about 7:30 Friday morning as she was walking through a church parking lot. But she was able to fight and get away from the suspect, who fled the scene.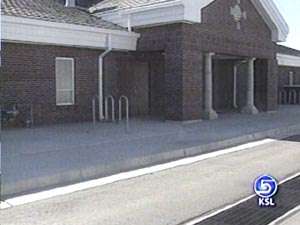 Police are crediting the girl for doing everything right in getting away from a terrifying situation. Now detectives are trying to find her attacker before he can strike again. As the 14-year old girl was walking to nearby Dixon Jr. High, she took a short cut through a church parking lot, when a stranger tried to abduct her.
Sgt. J.D. Lougee, Provo Police Dept.: "We're taking it very seriously. We've had our patrols canvassing this area all morning."
The victim told police as she walked in the area, a man came out from behind the pillars and approached her. As she ignored him and kept walking, he grabbed her from behind.
Sgt. J.D. Lougee, Provo Police Dept: "As he grabs her on the shoulders he begins to pull her back towards the church she begins to struggle. He kept telling her to be quiet, he kept telling her to 'shissh' in her words, he kept telling her to be quiet and at one point he put his hand over her mouth as she was yelling and screaming."
The victim fought back, and kicked the suspect, who finally let her go. She ran home and told her parents who called police. But the suspect was nowhere to be found. It's a frightening situation for neighbors.
Christopher Doleshall, Neighbor: "I'm really surprised it happened at the church. I mean, we've never had this problem in this neighborhood before and all of the sudden here it is."
The victim describes the suspect as about 19-years old, six feet tall and Hispanic. But it is the suspect's clothes that detectives believe make him stand out.
Sgt. J.D. Lougee, Provo Police Dept: "He was wearing a black jacket, a windbreaker type and she describes it as being unusual type of having zippers on the sleeves. He was also wearing black baggy pants and black tennis shoes."
Police are asking anyone in this area who saw the suspect this morning to give them a call. As for the victim, she was not hurt, but of course she was very shaken up by this.
×
Most recent Utah stories