Estimated read time: 2-3 minutes
This archived news story is available only for your personal, non-commercial use. Information in the story may be outdated or superseded by additional information. Reading or replaying the story in its archived form does not constitute a republication of the story.
Carole Mikita ReportingAfter 42 years in show business, Donny Osmond is still going strong. He came home for a CD signing and mini-concert in downtown Salt Lake today.
Some in the crowd waited for up to an hour just to hear a few musical numbers and maybe even get an autograph. Donny Osmond, for many, still has it.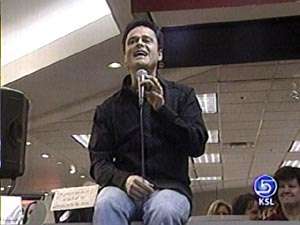 Utah's homegrown heartthrob, Donny Osmond still knows how to woo an audience. At 47 he has a new album --number 54-- and for the first time he has both written and produced it. Two songs, he says, mean the most to him; one written for his wife of 27 years and the other written for his children.
Donny Osmond, 'What I Meant to Say': "The one to my children is unconditional love. No matter where you are, no matter what you do, it's always an open door policy. And what's interesting about that song, when I've played it for people who have children, it really connects."
Donny Osmond, himself, still connects, and for him a live performance is what makes the career worthwhile.
Donny: "Because of all the fallout that's happened with a lot of artists who lip sync, I love to get out there and perform live. I've done it all my life. Yes, I've done game shows; yes, I've done talk shows; whatever, theatre -- but, I'm a singer."
And the crowds here love it! It's safe to say they are mostly women, some carrying memorabilia, many who don't mind telling you how they feel.
Reporter: "Do you think you might purchase this new CD?"
Linda Graham, Donny Osmond Fan: "Oh absolutely, probably more than one. I give 'em for presents. Everybody knows they're gonna get Donny Osmond from me."
Marianne Goldthorpe, Donny Osmond Fan: "I'm a fan too. Sure, I've lived here all my life, and you know, we all had purple socks at some point."
The new CD 'What I Meant to Say' is in stores now. Donny Osmond begins a nationwide tour to promote it February 10.
×
Most recent Utah stories