Estimated read time: 4-5 minutes
This archived news story is available only for your personal, non-commercial use. Information in the story may be outdated or superseded by additional information. Reading or replaying the story in its archived form does not constitute a republication of the story.
SALT LAKE CITY (AP) -- Faced with felony charges and gruesome allegations of torturing their own kids, John and Linda Dollar skipped a meeting with child welfare workers, piled into their Lexus SUV and pointed it out of Florida.
It's not clear when they left, but the two kept a low enough profile to roam the country until Friday, when police finally got permission to track their cell phones, and discovered the pair 2,200 miles from their home in the craggy, remote southeast corner of Utah.
For now, the two sit in jail in the 2,000-person town of Monticello, Utah, awaiting extradition to Florida.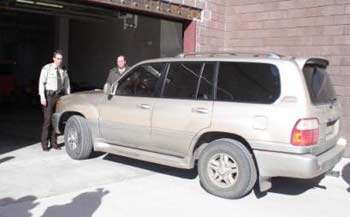 They're accused of so severely malnourishing five of their seven adopted chldren, ages 12 to 17, that they weighed no more than elementary school children.
The children told investigators they were subjected to electric shocks, beatings and having their toenails yanked out with pliers.
How the 58-year-old commercial real estate appraiser and his 51-year-old wife, who was a home school teacher, got there -- and where they were going -- remain a mystery.
But the two wouldn't be the first outlaws to try hiding in the vast, remote area -- full of mountains, canyons and sprawling red rock landscapes and nearly nudging the Four Corners.
Because of its geographic and social isolation, southeast Utah's San Juan County has been a popular destination for fugitives on the lam.
Monticello counts legendary outlaw Butch Cassidy as one of its most notorious purported inhabitants.
In 1998, a massive search for a fugitive accused in the killing of a Cortez, Colo., policeman during a traffic stop ended there more than a year after it started. Though more than 500 officers combed the Four Corners area looking for Alan Pilon in the summer of 1998, his body was not found until the next fall, when hunters stumbled across the remains.
Justice sometimes comes slowly in Monticello, nearly 300 miles southeast of Salt Lake City.
Because it's in such a remote area, the region is served by a roving court that meets in different towns, and is ordinarily convened in Monticello, where the Dollars are being held, just twice a month.
The San Juan County Sheriff's office said Saturday they're not sure when the Dollars would face a hearing, but that an emergency meeting may be possible.
Because the Dollars aren't charged with any crimes in Utah, investigators aren't going out of their way to find out how or why they got here, said George Rice, a correctional officer at San Juan County Jail.
Rice said the officers asked "non-investigatory" questions when they found the couple Friday after receiving an alert from the Citrus County Sheriff's Office in Florida.
Rice said San Juan County Sheriff's deputies were told the suspects could be in the Monument Valley area south of Monticello. They dispatched several officers, but found no trace of the Dollars until they started to head back.
There, on a stretch of Highway 191 about 45 miles north of the Arizona border, deputies spotted the Dollars heading south. They were arrested without incident.
Though the area has seen its share of fugitives, some Monticello residents were surprised to hear the couple was found near them.
"I was telling someone (Saturday) morning, of all the big towns they went through to get here, and then to get picked up in a little old town in south eastern Utah," said Dave Ketron, worker at Canyonland Convenience Store in Monticello, by telephone.
If they are extradited to Florida, the Dollars will face grisly allegations that they brutalized five of their seven adopted children.
Authorities took the children from their home late last month after one of them called for an ambulance.
The five were forced to sleep in a closet in the Dollars' bedroom because the couple accused them of stealing food and misbehaving, Citrus sheriff's spokeswoman Gail Tierney said.
"They looked like the photos that we've seen of Auschwitz," said Tierney, describing 14-year-old twins, one weighing 36 pounds, the other 38 pounds.
The other two children were favored by the Dollars and uninjured, Tierney said. All seven are in the custody of the Department of Children & Families.
In the past two years, the Dollars have moved their family to at least three different homes in the Tampa area after living in Tennessee, secluding themselves behind fences and in piney groves and keeping a low-profile.
The family had lived in Beverly Hills, about 85 miles north of Tampa, since August in a 3,800-square-foot home with a pool, spa and a three-car garage.
The case has puzzled neighbors, and the allegations of torture against the Dollars has drawn outrage from Florida officials.
"I hope they find them and I hope that they put them away for a long, long time," Gov. Jeb Bush told reporters Friday following an appearance in Hialeah, Fla. "It's disgusting." (Copyright 2005 by The Associated Press. All Rights Reserved.)
×
Most recent Utah stories