Estimated read time: 2-3 minutes
This archived news story is available only for your personal, non-commercial use. Information in the story may be outdated or superseded by additional information. Reading or replaying the story in its archived form does not constitute a republication of the story.
Jed Boal ReportingIt's another sloppy commute on I-15 tonight, just like the one this morning, and maybe tomorrow as a winter storm wallops the Wasatch. A winter storm delivered the first punch this morning and round two is here now.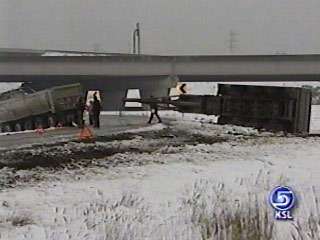 For all the snow in the mountains, this winter has been mild in the valleys of the Wasatch Front and this storm reminded us all what season this is. Warm weather this weekend might have lulled some of us into thinking spring is on the way. This storm snapped us back to reality, creating a sloppy Monday morning on the roads.
Snowplows got to work last night and they're still at it. By mid-morning most roads were wet, but clear of snow; but, the snow keeps falling.
Michelle McLaughlin, Utah Highway Patrol Trooper: "He was taking the road, just too fast."
The Utah Highway Patrol handled more than 60 assorted crashes, slide-offs and jack-knifes in Salt Lake County. A dump truck and trailer with a load of road salt jack-knifed on the ramp of I-80 Eastbound to I-215 Northbound on the west side. Too much speed for the conditions and the trailer slid out.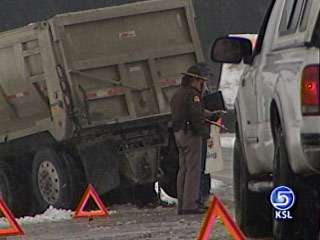 Michelle McLaughlin, Utah Highway Patrol Trooper: "We've had so many rollovers and crashes. Everybody's driving way too fast. The roads are slushy and wet and everybody panics. They stomp their brakes and lose control."
The layer of snow added beauty to most neighborhoods. And it's been awhile since we had to shovel the walk or dig out our cars. At the airport the snow did not cause any delays, airport managers say the crews were eager to get out and get the runways cleared. They have not plowed very much this winter, so it was a break in the routine.
While the snowfall was not enough to close school, it was plenty to play in. Second graders at Magna Elementary rolled such large snowballs with the wet snow they were simply too large to stack.
The mountains are piling up even more snow. If you're headed into the backcountry for skiing or snowmobiling tomorrow, be cautious and start off at low-angle slopes, and check the avalanche line before you go.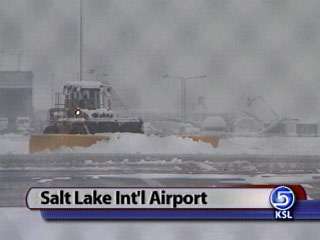 ×
Most recent Utah stories