Estimated read time: 1-2 minutes
This archived news story is available only for your personal, non-commercial use. Information in the story may be outdated or superseded by additional information. Reading or replaying the story in its archived form does not constitute a republication of the story.
Sam Penrod ReportingThe Florida couple arrested in Utah for the brutal torture and abuse of their children will soon be headed back to Florida to face charges. The couple waived extradition.
John and Linda Dollar will not fight efforts to get them back to Florida, where they have been charged with numerous counts of aggravated child abuse. The case is so disturbing that it's been getting national attention since last week.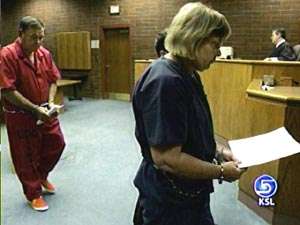 The Dollars appeared in court in Monticello this morning, in a special court hearing for their case arranged over the weekend. Inside, the Dollars were informed of the charges against them and the warrants for their arrest.
It was Friday night that the couple was arrested in San Juan County, after deputies were put on alert when the couple's cell phone calls were traced to the area. They did not resist efforts to be arrested and apparently knew why police were looking for them.
The Dollars had been the subject of a nationwide manhunt since last week, after the discovery and then criminal charges that five of their seven adopted children, ages 12 to 17 had been subjected to severe forms of abuse, including electric shock, being locked in a closet and clamping their feet in vises. The most obvious and disturbing condition of the children is severe malnutrition: 14-year old twin boys weighing just 38 pounds and a 16 -year old boy weighing 59 pounds.
Since the alleged abuse, all of the children were taken into protective custody. Authorities from Florida have ten days to pick up the couple from the San Juan County jail. That will likely happen before the end of the week. And the Dollars face up to 30 years in prison if they are convicted of the charges.
×
Most recent Utah stories