Estimated read time: 2-3 minutes
This archived news story is available only for your personal, non-commercial use. Information in the story may be outdated or superseded by additional information. Reading or replaying the story in its archived form does not constitute a republication of the story.
Coco Warner ReportingOkay, we all know who won yesterday's Superbowl contest, but what about the contest for best advertisement? After all, these 30 second spots cost nearly two and a half million dollars each. A Salt Lake City ad agency held its 10th annual "Ad Bowl".
So which ad was your favorite? The Richter-7 agency ranked the 58 ads on a scale from one to seven, with seven being the highest. But overall they said this years' ads averaged about a four-- only mediocre.
Jeremy Williams, IT Manager: "Any time you have to hold a card up in front of a screen for 15 seconds during an ad-- cmon! They probably paid a million dollars to hold a white card in front of the screen."
Let the games begin-- no not that game. That was yesterday. We're talking about the game played around water coolers everywhere today-- what was your favorite Superbowl ad? At the Richter-7 agency they've taken it to another level and today, they marked their 10th annual Ad Bowl.
Tal Harry, Account supervisor: "First and foremost you've got to have a clever spot, then you've got to tie it into your company or your particular message. If you're not doing that then you've failed."
Peggy Lander, Partner: "Given the climate of the country and what happened last year in the Superbowl, there was a real awareness for not stepping over the line, which in turn made the ads a little less risky than they usually are, which takes away from some of the entertainment value of it."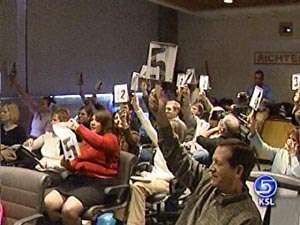 There were several awards up for grabs-- the best low budget award and the should have punted award. There's even the championship chuckle award, which went to Ameriquest. But the big winner and most valuable ad in this year's ad bowl was Anheuser Bush for its skydiving commercial.
Some of the not so great ads, according to Richter-7, include Visa's ad with the superheroes, and they did not appreciate the use of celebrities this year. Another ad that generated a lot of positive buzz was the Budweiser spot that paid tribute to soldiers returning from war.
×
Most recent Utah stories