Estimated read time: 2-3 minutes
This archived news story is available only for your personal, non-commercial use. Information in the story may be outdated or superseded by additional information. Reading or replaying the story in its archived form does not constitute a republication of the story.
Carole Mikita ReportingWords and pictures can't adequately describe the experience of being in the tsunami-devastated area. That's from a man who reached those in need just days after the wave struck. Garry Flake is director of humanitarian services for The Church of Jesus Christ of Latter-day Saints. He has returned now after spending weeks in southern Asia to plan what needs to be done next.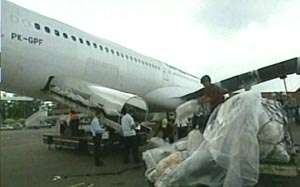 As soon as the tsunami struck relief organizations the world over sprang into action. One of the people who has experience dealing with disasters is Garry Flake. NBC's Brian Williams found him in Indonesia, supervising the unloading of a plane with relief supplies. Flake directs LDS Humanitarian Services.
Gary Flake, Director LDS Church Humanitarian Services: "I was out within 24 hours of the tsunami starting, and we looked for where we could help the most. I was in Maydon, on the island of Sumatra, and then I was in Banda Acheh. We were into Sri Lanka twice"
Many of the supplies came from Utah. Church volunteers put together more than 100,000 hygiene kits. At a news conference the LDS church and the Islamic Relief organization announced those kits were leaving on a supply plane.
Memories of human suffering have stayed in Garry Flake's mind. He recalls meeting a group of mothers who had all lost children.
Gary Flake, Director LDS Church Humanitarian Services: "They had a child in their arms and a child by the hand, fell down and then had to get up and reach for that child and that child not be there. And to listen to that heartbreak was really tough."
Gary Flake, Director LDS Church Humanitarian Services: "I think of the body bags that we brought to assist and then seeing them filled. Most of all, I'm just grateful that we could help make a difference."
Flake says Utahns made a difference, contributing millions of dollars to churches, the Red Cross and other tsunami relief efforts. He says more help will follow.
Flake is now deciding what can be done for the rebuilding efforts. Every hard-hit area needs clean water, medical clinics and new schools -- that's the next phase.
×
Most recent Utah stories