Estimated read time: 2-3 minutes
This archived news story is available only for your personal, non-commercial use. Information in the story may be outdated or superseded by additional information. Reading or replaying the story in its archived form does not constitute a republication of the story.
Amanda Butterfield reportingTwelve weeks of some of the hardest training offered in the military.
By the time Marine recruits are through with training, their bodies are fit, their minds are sharp.
Kyle Soules of Salt Lake, and Ryan Christensen of Payson aren't done with training yet, but already they're changing. We caught up with them at the shooting range in Camp Pendleton.
Shooting a M-16 A-2 Service Rifle is something Ryan Christensen never did at home.
Ryan Christensen/Recruit:"It's been different then what I've been used to in Utah."
The same goes for Kyle Soules, from Taylorsville.
And in the several weeks since we first met up with the two as they joined the Marines....
Ryan Christensen/Recruit: "There's more inside of me then I thought there was."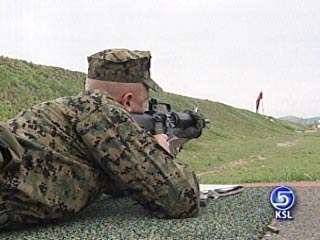 Kyle Soules/Recruit: "I've grown up a lot, and realized you've got to take responsibility for your own actions."
They're half way done with the training every Marine recruit must accomplish. Shooting practice takes place at Camp Pendleton near San Diego, but before they got here, they had to endure training at the Marine Corp Recruit Depot.
The training that recruits go through is one of the longest in the military: It's 12 weeks long, and they're out here for about 2 hours a day.
Marines have the most demanding physical requirements of any branch of the military. Through all the running, jumping, and climbing, there's always a drill instructor yelling.
Staff Sgt. Josiah Moreno, Drill Instructor "Just motivating the recruits. We encourage them along the way"
Both Ryan and Kyle got through the first weeks of training all right. It wasn't easy, and it's still not.
Kyle Soules: "I wanted to go home every day, until up north, but I fought it and I'm here and it's getting better every day."
Ryan Christensen, Marine Recruit: "I'm starting to like it more then I thought I was going to, so depending on what happens I might make a career out of it."
With their attitude changes, the reasons for becoming a marine have also changed, for Kyle especially. He first joined for confidence, now he just wants to help.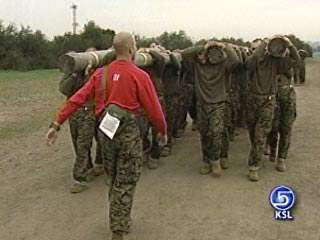 Kyle Soules: "Hopefully I will go to serve time in Iraq to free the people over there, because it's a lot bigger deal then I once thought it was as a civilian."
But it's not over yet: There's still eight more weeks of training for the two, and the hardest part is still to come.
It's called 'The Crucible': An endurance test that lasts days. Every Marine must finish it. During it they march dozens of miles, and complete dozens of missions -- both physical and mentally tough -- all with little sleep and food.
We'll show it to you up close Wednesday.
×
Most recent Utah stories