Estimated read time: 2-3 minutes
This archived news story is available only for your personal, non-commercial use. Information in the story may be outdated or superseded by additional information. Reading or replaying the story in its archived form does not constitute a republication of the story.
Kimberly Houk ReportingEducators are finding that schools can be built in a way that will improve the way kids learn. It has a lot to do with the design of the building, and a newly built Middle School in Davis County is receiving international attention for the way it's structured.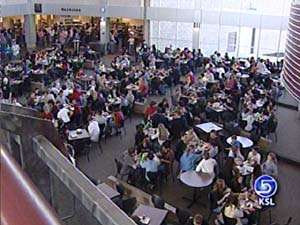 The school is eye-catching, but what's really interesting is the way it's designed. It clusters students in a way that makes them feel more safe and secure within a large school.
Dr. Jane Muna, Principal: "A school like this… it's the very best for learning."
The kind of learning that's done when walls are torn down...
Jeanne Jackson, School Designer: "You can see into all the rooms. We put the glass up so there's a lot of visibility."
Sabrina Evans, Student: "Just being able to see what's going on in other classes, it's pretty cool.'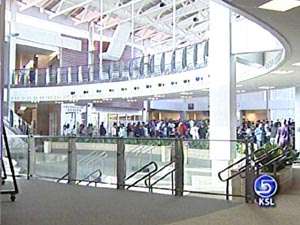 Dr. Jane Muna, Principal: "I see the comfort zone here."
It's a zone structurally designed to give students a place to call their very own.
Dr. Jane Muna, Principal: "They feel good about their own area, which is called a house."
Housed in separate sections of the school, each seventh, eighth, and ninth grader sits in a classroom with a glass wall that looks into several other classrooms. And the best part for educators is that five teachers -- in a round-about way -- now have the ability to keep an eye on all students.
Jeanne Jackson, Designer: "You kind of shelter them and you give them an opportunity to be with five teachers instead of one teacher."
Dr. Jane Muna, Principal: "It's like a community within a community. It makes for better teaching when they're less tense and they feel good about where they are."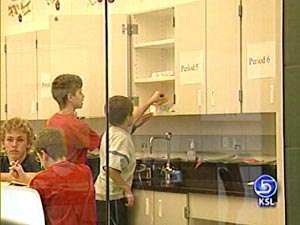 Reporter: "At what point did you go, 'Aha, we need to keep them together; we want glass; we want to be able to see through to other classrooms?'"
Jackson: "I wish we could take credit for that, but the educators have come up with these ideas."
Ideas that flow freely inside the houses, a design dreamed up by a team of local teachers who, along with the architects, toured the country, getting a firsthand look at some of the best schools in America. That led to this vision of open-ness--high ceilings and a common area that students flock to for lunchtime.
And another good thing - it doesn't cost taxpayers anything more to build a school like this versus one that looks more traditional.
×
Most recent Utah stories