Estimated read time: 1-2 minutes
This archived news story is available only for your personal, non-commercial use. Information in the story may be outdated or superseded by additional information. Reading or replaying the story in its archived form does not constitute a republication of the story.
Carole Mikita ReportingFor the first time since becoming Pope, John Paul II missed Ash Wednesday services at the Vatican today. Prayers were said there and around the world for his recovery. Carole Mikita spoke with the head of Utah's Catholics and joins us now.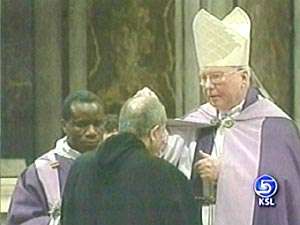 Bishop George Niederauer believes the pope will leave the hospital and return to his work, and he says he cannot imagine John Paul ever stepping down. As the season of Lent begins, Bishop George Niederauer, places the symbolic mark of ashes on the foreheads of his flock--that mark, a symbol of mortality. A similar Mass is celebrated throughout the world.
At The Vatican, for the first time in 26 years, it was a cardinal who conducted the service instead of the pope. His absence only heightens speculation that he may resign, which hasn't happened in more than 700 years.
Bishop George Niederauer, Catholic Diocese of Salt Lake "It is possible. Is it likely for this pontiff? I think not, because he has, on more than one occasion, said that if he leaves office, it will be God's will and I think he interprets that as his dying."
The bishop believes the pontiff will exert the determination to return to his mission because of the strength of character he has been exhibiting since he became a priest in Poland in the late 1940's.
The American Cardinal James Stafford who presided over the Ash Wednesday services at the Vatican is from Denver; he has a Papal appointment and lives at the Vatican now.
×
Most recent Utah stories