Estimated read time: 2-3 minutes
This archived news story is available only for your personal, non-commercial use. Information in the story may be outdated or superseded by additional information. Reading or replaying the story in its archived form does not constitute a republication of the story.
Sam Penrod ReportingFour Spanish Fork teenagers appeared in court today, charged with brutally killing more than 1,000 turkeys on a Sanpete County farm last year.
It was a year ago this week, that the crime was discovered. The brutality of 1200 turkeys being clubbed to death on a farm generated public outcry and numerous rewards. Last month those rewards paid off when investigators got a tip and solved the case.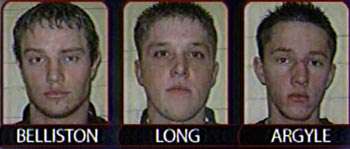 It was a Sunday morning last February, when Jason Sunderland found a horrible discovery on his Sanpete County farm. 1200 of his turkeys were dead, their broken remains scattered on his farm. Also left behind were wooden sticks, believed to be the clubs used to beat the turkeys to death. But there were few clues about who was involved.
Today four suspects appeared in court to answer to second-degree felony charges of criminal mischief and misdemeanor trespassing. Prosecutors say Colton Belliston, Cody Long, Travis Argyle and Martin Smith, all of the Spanish Fork area, along with three juveniles were participants in the crime.
Jason Sunderland, Turkey Grower: "I'm glad they got caught, I think they are glad they got caught too, they've contacted me and talked to me and they're definitely sorry for what happened, we'll see what happens in court."
A group of animal activists demonstrated outside of the courthouse. They fear violence towards animals is a precursor to crimes against people.
Sean Diener, Utah Animal Rights Coalition: "We want people to know that those who abuse animals rarely stop there, to bludgeon brutally over one thousand turkeys, this is something that should not be taken lightly. This is sick and sadistic. They should be put in jail for it."
Despite financial losses in the thousands of dollars to his family farm, as well as the emotional toll, Jason Sunderland says he has no hard feelings for the suspects, but believes they need to be held accountable.
Jason Sunderland: "I feel sorry for them. I wish they didn't do it, and I'm sure they do to."
The suspects will be back in court later this month. If they are convicted in the case, they could face up to 15 years in prison.
×
Most recent Utah stories