Estimated read time: 3-4 minutes
This archived news story is available only for your personal, non-commercial use. Information in the story may be outdated or superseded by additional information. Reading or replaying the story in its archived form does not constitute a republication of the story.
Ed Yeates Reporting A medical mystery has more than a dozen of the world's top brain doctors puzzled. Why is the brain of a 51-year old man from Bountiful literally shrinking? In our special report - - The Vanishing Brain.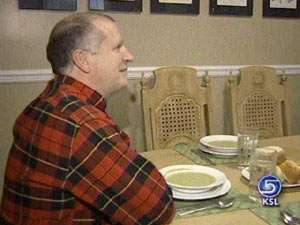 When the University of Utah builds its world class "Brain Institute," this is where researchers will focus - what is considered the last frontier of medicine - and mysteries like the one plaguing David Mitchell and his family. Who David Mitchell once was - the father, the husband his family once knew - is fading away. And nobody knows why!
Cynthia Mitchell: "And I find that every time I go in on a monthly basis, emotionally, it's very hard on me because you can see the degeneration that's happened from the month before."
After consultations with the world's best neurologists in the United States and Canada after numerous exams and brain scans -- the mystery continues. While the right hemisphere in David's brain remains healthy and functional, the left hemisphere is shrinking away.
Kathleen Digre, M.D., University of Utah Neurologist: "On this side, the left side, you can see that the Gyri are bigger and there is much more space in all the black."
The Gyri Dr. Kathleen Digre refers to are tissue loops that form patterns in our brain. The black in between are the atrophied tissue disappearing in David's brain. The white is spinal fluid moving in to fill the void.
In addition to losses in thinking clearly, there is extreme pain and other side effects.
David Mitchell: "I'm trembling more and I don't know why. And I'm more dizzy than I have been, and I'm losing my balance on occasion, where I've fallen down."
University of Utah neurologists have all the scans now from the Mayo clinic and they'll do even more here, trying to unravel the puzzle.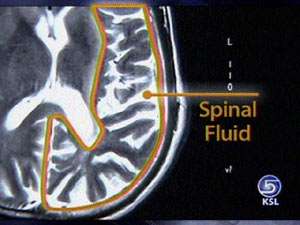 But one good thing has happened, Dr. Digre has found a way to treat David's pain.
David Mitchell: "That little bit of relief that I have gotten has made a big difference in my life."
Pain is what the Mayo Clinic says must be controlled if he wants to try re-teaching the good side of his brain to salvage at least a few functions he's losing.
The techniques are almost identical to those used on brain injury patients - like Kortney Johnston at Primary Children's Hospital. She couldn't talk or walk or think clearly - but through brain retraining, has come a long way.
Kortney Johnston: "I have a lot more use than I use to, a lot. Like before it was just right here."
And for memory, thinking and coordination..
Judy Gooch, M.D., Physiatrist, P.C.M.C.: "We might suggest using a daily planner to plan out the day so that you can go through the day and not need to remember all of the little details."
Kortney's brain still has what doctors call "plasticity." David will have more difficulty because of his age and because, unlike Kortney, he's continually losing more and more brain tissue.
But still...
Cynthia MItchell: "I mean, we've got to give everything a try."
David Mitchell: "I felt more optimistic yesterday than I have for a long, long time."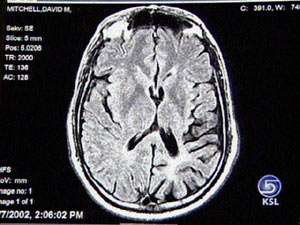 David's case is so intriguing, one national neurologist came out of retirement to study him. His case is so unique, neurologists aren't even sure if there's ever been another case exactly like David's.
×
Most recent Utah stories