Estimated read time: 2-3 minutes
This archived news story is available only for your personal, non-commercial use. Information in the story may be outdated or superseded by additional information. Reading or replaying the story in its archived form does not constitute a republication of the story.
Richard Piatt reportingA bill to tax and divest Utah's largest health care provider is stalled in a Utah Senate committee.
Along the way, Senate Bill- 61 drew a huge crowd to the Capitol, with most pushing for the bill's defeat.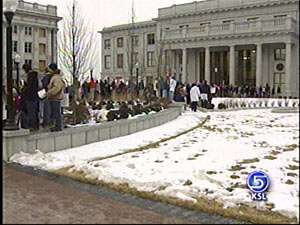 There are a lot of people who are worried about what will happen if this bill passes. But there's a difference of opinion on what would happen if it did pass: Would it be better for competition, or would it raise health care costs?
One thing is for sure: The plan to split up and tax I-H-C is sparking sharp emotions.
"Say no to 61, say no to 61"
This is the biggest protest at the Capitol this year. Loudspeakers brought the hearing to the plaza, the testimony at times bringing groans from the crowd. Inside, An open challenge to the way I-H-C has always done business.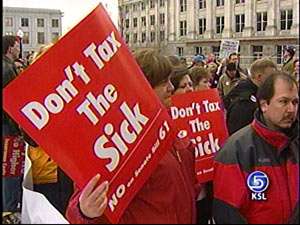 Senator Michael Waddoups is the point person, proposing changes he says eliminate an unfair competitive advantage.
Sen. Michael Waddoups/(R) West Jordan: "My goal is that they compete fairly, that they compete on a level playing field. And I think they do not. I think they're subsidized by the profits they generate under the charitable care exemption."
Waddoups wants to split I-H-C's health care and insurance businesses, subjecting the insurance operations to tax. But I-H-C employees fiercely defend it's operation--and non-profit status.
Merrill Gappmeyer/IHC Chairman: "I'm proud of our employees, I'm proud of our system, I'm proud of the care we deliver."
Greg Poulsen/IHC Senior Vice President: "Our commitment is to provide health care for those who need health care."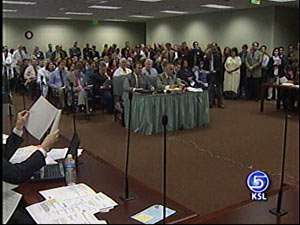 Critics also imply I-H-C doesn't do enough charity health care in Utah, another point the organization refutes.
Regardless, even critics of the bill say there is a larger problem looming.
Kent Johnson/Cadiologist: "Patient care has been replaced by---for a lack of a better term--greed."
The original bill included a three percent tax on I-H-C, which would generate about 100-million dollars a year. There is a standing offer to drop the tax, but include the split, which will be taken up next week.
×
Most recent Utah stories