Estimated read time: 2-3 minutes
This archived news story is available only for your personal, non-commercial use. Information in the story may be outdated or superseded by additional information. Reading or replaying the story in its archived form does not constitute a republication of the story.
Ed Yeates Reporting Students at East High School mourned the death of a classmate today who died suddenly from the same bacterial infection that can cause meningitis. Salt Lake Valley Health Department began its investigation immediately, advising close friends and contacts to begin preventive treatment on antibiotics.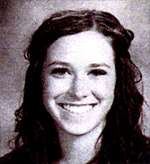 Thursday the 16-year old teenager was treated and released from Primary Children's E.R. with what was believed to be a different, less serious illness. She came back to the hospital sicker on Saturday, and was admitted in critical condition. She died today.
Dagmar Vitek, M.D., Salt Lake Valley Health Department: "Especially during the winter time it's really difficult to distinguish between cold and flu or something more serious."
But serious it was for Madeline Hales. She was healthy and active, a strong participant in dance, drama, cheerleading and more. It surprised everyone when the meningococcemia infection took her down in just a matter of hours. East High took the news hard.
Dr. Robyn Roberts, Principal, East High School: "We're just heartbroken. There's a lot of sadness going around and we've got counselors and social workers trying to help kids process the grief that they're feeling right now, because she was such a great member of our student body."
Those who came in close contact with Madeline over the past week are currently on antibiotic treatment, as a preventive. Baya Voce and Angela Green are both close friends, both on antibiotics now since they were all in the same dance club together.
Baya Voce, East High School Dance Club: "Everybody in Dance Company was sick. We're all together every day so everyone was kind of sick. And then Madeline gets sick and we didn't think it was any different."
Angela Green, East High School Dance Club: "From this experience we can just all work to be better people and appreciate others and make the most of the life that we can."
The Dance Club is currently making a blanket with student signatures, and writing letters and journals in honor of Madeline.
Dr. Vitek says this appears to be an isolated case and does NOT pose a public health risk. Her colleagues will monitor for more infections over the next few days, but she doesn't expect to see anymore.
Though killer infections like this are rare, they do happen. Fourteen months ago a 15-year old student at Judge Memorial High School died suddenly - almost the same way - of bacterial meningitis.
There is a new meningococcal vaccine this year that will protect against four different varieties of the bacteria. As a preventive, the CDC is recommending it for children 11 to 12, all teenagers entering high school, and college freshman living in dormitories.
×
Most recent Utah stories