Estimated read time: 2-3 minutes
This archived news story is available only for your personal, non-commercial use. Information in the story may be outdated or superseded by additional information. Reading or replaying the story in its archived form does not constitute a republication of the story.
Samantha Hayes Reporting A teenage girl, healthy one day, suddenly dead the next. Today public health nurses are frantically calling to make sure none of the girl's friends or classmates show the symptoms of meningitis.
It's a frightening disease, taking its victims close to death, sometimes before they or their doctors even know what's wrong. And when it shows up in a community, especially near young people, public health doctors take it very seriously.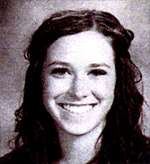 Doctors don't know why Madalyn Hales contracted the deadly bacteria. It's something we are all exposed to, but in certain individuals the disease breaks through the immune system and at that point it is very difficult to survive.
Her friends want to remember anything but what happened the last few days.
Brooke Parkinson, Friend: "Just her laugh, she could get laughing so hard. I'm always going to remember that."
Sixteen-year old Madalyn Hales passed away Monday from Meningitis-causing bacteria. Now the Health Department has been busy informing parents of the risks.
Doctors say even with antibiotic treatment, 10-13 % of those who develop Bacterial Meningitis will die. For those who do survive, life is usually never the same.
Tom Griffiths, Bacterial Meningitis survivor: "Because I'm numb from the waist down. I don't have very good balance. I can't stand for extended periods of time."
BYU Professor Tom Griffiths developed Bacterial Meningitis eight years ago when heart medication suppressed his immune system.
Tom Griffiths: "The doctors told my family they should take me off life support because if I survive I wouldn't be, I wouldn't have my mental faculties. And so I guess I defied the odds."
And the odds are only 1% of the population can develop this terrible disease, leaving family and friends of the victims to wonder how this could happen to their loved one.
Sarah Dahlstorm, Friend: "It was really shocking. It was really so sudden. No one really knew how to handle it.
There is a new vaccine for bacterial meningitis that is supposed to last longer that the old one. Many doctors are now recommending it for high school age students.
×
Most recent Utah stories