Estimated read time: 1-2 minutes
This archived news story is available only for your personal, non-commercial use. Information in the story may be outdated or superseded by additional information. Reading or replaying the story in its archived form does not constitute a republication of the story.
Amamda Butterfield reporting A sudden storm Wednesday morning took many drivers by surprise, contributing to several accidents, and even a rollover.
Some areas, like Sandy and the point of the mountain, were hit hard.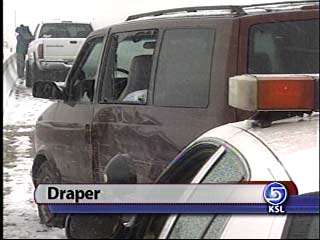 A two-car crash quickly turned into a four-car pile-up on I-15 at the point of the mountain. It happened after a driver switched lanes with out looking, sideswiping another car. Another driver slowed down to get a better look and was rear-ended.
One person was taken to hospital with neck injuries, but is expected to be okay.
It was just one of many crashes on the interstate caused by high speeds and slick roads.
Travis Marx, Utah Highway Patrol: "I came straight from another so I count three and there's been at least three more down about 104 south."
Things also got slick on 20th south and I-80.
A woman heading east hit a patch of black ice, over corrected, and ran into the right side barriers. The car rolled on its side, then slid a ways before it stopped.
The driver of the jeep says the slick roads took her by surprise.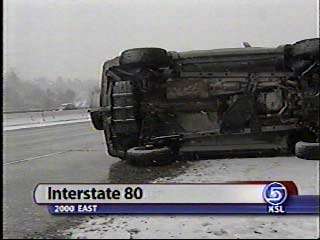 Joyce Mattes, Driver: "I didn't think they were that bad, I went for walk and didn't think it was that bad when out and about, I just couldn't believe how slick they were."
Steve Martin, Utah Highway Patrol: :"We need everyone to slow down.. Reduce speeds and take your time getting there so you get there safely."
The driver injured her leg, but is expected to be okay. It is likely the woman will be cited for going to fast.
×
Most recent Utah stories