Estimated read time: 2-3 minutes
This archived news story is available only for your personal, non-commercial use. Information in the story may be outdated or superseded by additional information. Reading or replaying the story in its archived form does not constitute a republication of the story.
Carole Mikita ReportingSay the word 'Cinderella' and you would find few people who don't know the story, but how about the title "The Slipper and The Rose"? It's pretty much the same story but the production has never been done in America, until now.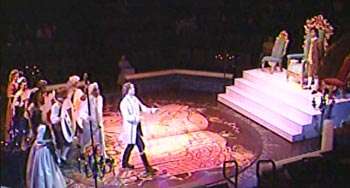 "The Slipper and the Rose" was first produced in England then made into a film starring Richard Chamberlain. The original script was modified for theatre; the show cast and crew call 'Cinderella with a twist'.
A flying Fairy Godmother and a lighted coach add technical razzle-dazzle to a centuries old and modern-day favorite tale, not 'Cinderella' but a spin-off, "The Slipper and the Rose'. First done in Britain, Utah's Hale Centre Theatre has created the first American production.
Tammy Morgan, Exec. Admin. Assist. Hale Centre Theatre: "About two years to find it, and it was a lot of work, but it was all done on the internet and found them. And here it is."
Cinderella may have all the magic, but this show is written from the prince's point of view. Something different happens here.
Banjamin D. Hale, Prince Edward, "The Slipper and the Rose': "The king has to make a marriage of alliance, to make sure his country doesn't go to war. So those are some of the issues brought up in this production."
This production runs for eight weeks, with eight shows a week, so the director double cast the lead roles; there are two actors playing Prince Edward.
Gabriel Hamilton, Prince Edward: "You can watch your double in rehearsal and steal things from them and add it to your own performance."
The double casting may lighten performers' loads but it's times two for the costume department. The crew created nearly 400 pieces, from the king's brocade jacket and velvet sash to lace-trimmed gowns. Maybe the most famous piece of costume is the glass slipper. And for those of you who are wondering, is she going to try it on, the answer would be 'no'. We'll leave that to the woman still looking for her prince charming...
"The Slipper and The Rose" performances run through April 9 at Hale Centre Theatre. Tickets are still available.
×
Most recent Utah stories