Estimated read time: 2-3 minutes
This archived news story is available only for your personal, non-commercial use. Information in the story may be outdated or superseded by additional information. Reading or replaying the story in its archived form does not constitute a republication of the story.
Kimberly Houk ReportingWoods Cross High School is being targeted by an arsonist, and officials believe it's probably a student. Three separate fires have been set inside of the school this week, two of them today.
About 9:30 this morning smoke started filling the school. The fire alarm sounded, sending nearly 1200 students out of the building. Streaming out of school for the second time this week, students wait out in the cold while officials try to track down the arsonist.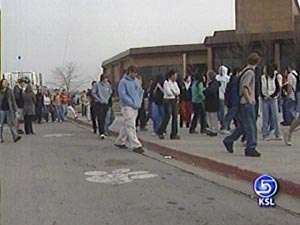 Chris Williams, Davis County School Dist.: "Our thought is any time you've got an arsonist runner on a high school, you've got problems."
The problems keep starting in boy's restrooms. A plastic toilet paper dispenser was lit up on Wednesday. And two other restrooms on opposite ends of the building were hit today.
Chief Blaine Porter, South Davis Metro Fire: "It's undetermined if they started simultaneously, or if one kid started it and they could get to the other end and start that."
Megan Kelly, Student: "We were sitting in choir and we smelled smoke. Our teacher went outside, and the bathrooms in the hall right by the choir room, there was smoke coming out of them."
Bud Neslen, Substitute Teacher: "I came out in the hallway and saw a bathroom door open and two boys running up the hallway."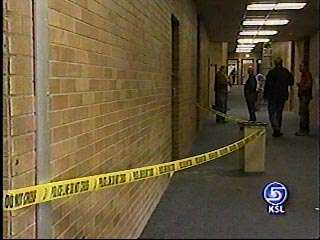 Hot on the trail of who's doing it, a local crime lab was called in to secure evidence.
Chief Blaine Porter, South Davis Metro Fire: "They're just looking for anything. It could be footprints, fingerprints, whatever they do on their side just to determine who's starting them."
And once they do that student or students will be tossed out of school for good, and also face criminal charges for doing something no one is taking lightly.
Chief Blaine Porter, South Davis Metro Fire: "It's not going to be too long before it's not a small fire, and that's a big concern is what are we going to move up to if they're not caught."
The school is also offering a $200 reward to anyone who comes forward with information that leads to an arrest. The principal says kids start to talk and that is how most suspects are caught.
×
Most recent Utah stories