Estimated read time: 2-3 minutes
This archived news story is available only for your personal, non-commercial use. Information in the story may be outdated or superseded by additional information. Reading or replaying the story in its archived form does not constitute a republication of the story.
Sandra Yi ReportingA Riverton man is in jail for going on a drunk driving joy ride. He did a lot of damage in one South Jordan neighborhood.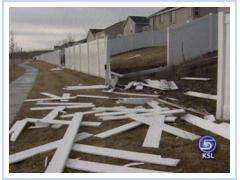 The man was driving in a field. He came down the hill and crashed through a fence. But the damage didn't stop there.
Skylar Chittick: "Just went right through the fence. I heard a loud boom."
The ruckus was a rude awakening for people in the South Jordan neighborhood.
David McEntire, Neighbor: "Three o'clock in the morning I hear this giant boom and a flash of light coming from behind my drapes. We didn't know what it was."
Turns out it was a man driving this Ford truck out of control. Police say 31-year old Brandon Smith was drunk and high.
Skip Lewerentz: "Thank God there wasn't kids around."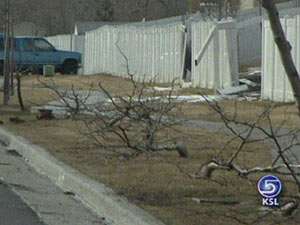 Smith tore a path of destruction, spanning several blocks in the new development. He weaved in and out of people's yards, taking down fences, stop signs and lamp posts. One of the street lights landed in the bed of his truck.
Skip Lewerentz: "Yeah, looked like a tank, you know?"
The man continued driving down the sidewalk, taking out trees and a fire hydrant.
Skip Lewerentz, Neighbor: "Gee whiz, this is the kind of stuff you see on television all the time. You don't think it's going to happen to you, but by George, here it is."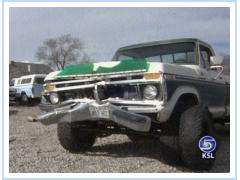 This morning neighbors were left picking up the pieces. Damage estimates run into the tens of thousands of dollars. It's excessive, but repairable.
Nicole Fife, Neighbor: "I feel for my neighbors, and I'm glad their dogs weren't outside, or their kids. I'm glad nobody was hurt."
Police found Smith not too far away. He was driving his sister's truck. It had broken down on the side of the road. Smith is now in jail facing a slew of charges.
×
Most recent Utah stories