Estimated read time: 2-3 minutes
This archived news story is available only for your personal, non-commercial use. Information in the story may be outdated or superseded by additional information. Reading or replaying the story in its archived form does not constitute a republication of the story.
Tonya Papanikolas ReportingThere's been a lot of police officers in car accidents lately. Last night's officer-involved accident is the third in just two weeks. Today two of those recovering officers spoke out.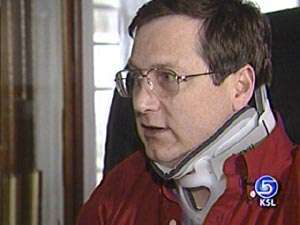 Last year the Utah Highway Patrol had more than 30 crashes involving troopers. West Valley City had 43. Most officers involved had only minor injuries. The officers hurt in the last two weeks will recover as well, but it's a painful process.
Michelle McLaughlin: "My knee hurt immediately. I knew that I'd hit the dashboard really hard. And when I looked down, I could see that my kneecap was separated from the bone."
On February 9th, UHP trooper Michelle McLaughlin was driving in Taylorsville when a car made a U-turn right in front of her. McLaughlin and another driver hit the car. The driver making the U-turn was flown to the hospital in critical condition. McLaughlin dislocated her knee and won't be back on the job for six to eight weeks. She says officers encounter accidents like everyone else.
Michelle McLaughlin: "It's a matter of how much time you're on the road. We do a lot of driving. Some officers put in almost 200 miles a shift. That means you have the potential of something happening."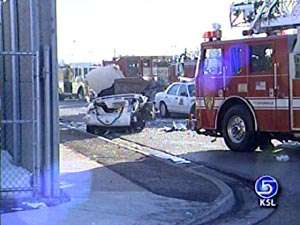 McLaughlin and another injured officer Nick Roberts agree drivers need to slow down. Roberts is a range master with the Salt Lake County Sheriff's Office, but he's currently wearing a neck brace after an accident last Friday. He had been responding to a crash in Parley's Canyon when someone hit his car from behind.
He never expected to be a statistic.
Nick Roberts, Salt Lake County Sheriff's Office: "Done it thousands of times, you pull up on an accident, you protect the people, you don't expect to become part of it. But more and more, officers are getting hit, they are getting more involved by people not watching what they're doing."
Nationwide, automobile accidents account for 23-percent of officer deaths in the line of duty, second only to gunfire.
×
Most recent Utah stories