Estimated read time: 2-3 minutes
This archived news story is available only for your personal, non-commercial use. Information in the story may be outdated or superseded by additional information. Reading or replaying the story in its archived form does not constitute a republication of the story.
Sandra Yi ReportingThere have been eight auto-pedestrian accidents in Salt Lake City since the first of the year. More than half have been in the last 10 days, and two were fatal. What's going on?
We found out getting from here to there isn't an easy feat. Officers say staying safe boils down to paying attention.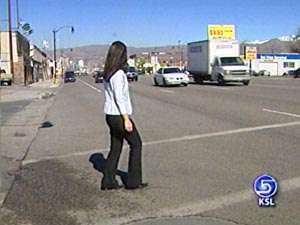 Carlos Sosa: "Every time you cross the street, it's a close call."
Pedestrian: "It's dangerous. Everybody just flies right past us."
Carlos Sosa: "It's not really a life or death situation, but it could be."
Crossing the street shouldn't be so dangerous, but it can be.
Shane Whiting, Motor Officer: "It only takes a few seconds for something very serious to occur."
Pedestrians we spoke with who regularly cross State Street have had close calls.
Pedestrian: "I've had them stop right in front of me, almost hit me."
Reporter: "Even with the crosswalk here, do you feel completely safe?"
Carlos: "Not really (laughs)."
We wanted to see for ourselves. Officer Shane Whiting watched as I tried to walk across 1500 South and State Street. By law cars have to yield as soon as someone steps foot on the road. But not all drivers did.
Shane Whiting: "There's two, three violations right there, and there's a fourth violation."
Shane Whiting: "That car that went past you was doing at least 35 to 40 miles an hour."
Officer Whiting and his partner ticketed 10 drivers in 40 minutes. And the number could have easily doubled had there been more cops there.
Shane Whiting: "That vehicle right there. He's on his cell phone."
But not all drivers are to blame.
One man we saw jaywalked, even though he was next to a crosswalk. Officers say that's dangerous too.
Shane Whiting: "Drivers as well as pedestrians need to pay closer attention to what they're going to do."
Jaywalkers are fined 50 dollars. It's nearly double for drivers who fail to yield at a crosswalk. But if a pedestrian has a flag or is handicapped, the ticket will cost you nearly 500 dollars.
×
Most recent Utah stories