Estimated read time: 2-3 minutes
This archived news story is available only for your personal, non-commercial use. Information in the story may be outdated or superseded by additional information. Reading or replaying the story in its archived form does not constitute a republication of the story.
Sam Penrod Reporting A sight-seeing trip for senior citizens in Little Cottonwood Canyon took an unexpected turn when the van they were riding in crashed. But quick thinking by the driver probably saved lives.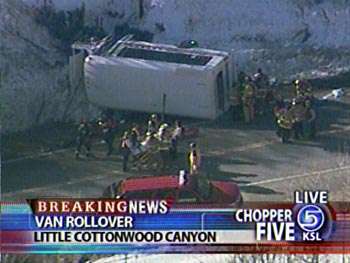 Ten people were hurt when the brakes on the bus apparently failed as it was heading down the canyon. All are residents of the Alta Ridge Assisted Living Center in Sandy.
Of the 14 residents that went on the ride this afternoon, all but three are back home tonight. Over all, ten had to be taken to the hospital and one remains in serious condition. But what happened in Little Cottonwood Canyon today could have been much worse.
The clear sunny day seemed like a perfect opportunity to get outside, and 14 residents at Alta Ridge Assisted Living went out this afternoon for a ride in the mountains.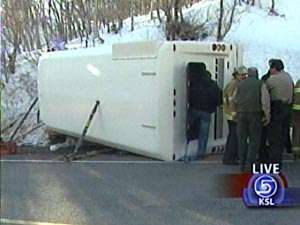 Paula Heugly Administrator: "They decided to take a ride in Little Cottonwood Canyon. It was a great day for it."
But the day suddenly turned frightening. On their way home, along the canyon road, there was serious trouble. The brakes on the bus seemed to fail.
Capt. Michael Jensen, Unified Fire Authority: "We are very fortunate the bus didn't go over on the creek side where there is a big vertical drop. It could have been much worse."
Authorities are crediting the bus driver for taking emergency action and steering the bus into this snowbank to bring it to a stop.
Capt. Michael Jensen, Unified Fire Authority: "The bus driver, clearly in his mind, did what he felt he had to do to save the passengers and cause the least amount of injuries to them."
But there were injuries, most of them caused when the passengers were thrown around inside. One woman was critically injured and airlifted to the hospital. Nine others had to be taken to the hospital for less serious injuries, mostly bumps and bruises. Three residents were fortunate enough to walk away and were driven back to their home.
But the accident caused long delays in the canyon, hundreds of people at the ski resorts had to wait a couple of hours to get down the canyon. And while it was a scary day for residents and their families at Alta Ridge, they are thankful everyone survived..
Paula Heugly, Administrator: " Everyone is going to be okay, and that's the important part.
Investigators are still looking into the cause of the crash and will inspect the bus itself, to see if they can pinpoint exactly what happened.
×
Most recent Utah stories