Estimated read time: 2-3 minutes
This archived news story is available only for your personal, non-commercial use. Information in the story may be outdated or superseded by additional information. Reading or replaying the story in its archived form does not constitute a republication of the story.
John Hollehnorst ReportingHelp is on the way from Utah to US Troops in Iraq. The Tooele Army Depot is accelerating a new program producing armor to protect American convoys.
The lack of armor has created a major vulnerability for American convoys. Tooele is one of five bases with a new armor program. But officials say it has nothing to do with an incident that embarrassed the Bush administration a few weeks ago.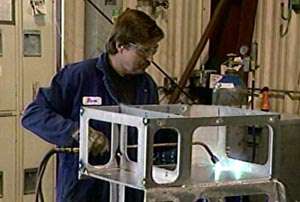 They're grinding and cutting. They're welding and assembling, making a new type of armored cab for the Army's five-ton cargo trucks.
Keith Siniscalchi, Tooele Army Depot: "Our first two cabs took us about two weeks to manufacture. Now we're producing two cabs in about five days. And we're going to accelerate that to about five cabs in a week."
Instead of flimsy steel, this is thick, armor-plate steel. And if you've been paying attention to news out of Iraq, you know why they're revving up the program. U.S. troops face constant threats, especially in convoys; and many vehicles are lightly armored, if armored at all. Soldiers started making what they call "Hillbilly Armor" out of scrap metal. That led to a highly-publicized encounter in Iraq with Defense Secretary Don Rumsfeld.
Spec. Thomas Wilson, Dec. 8, 2004: "Why do we soldiers have to dig through local landfills for pieces of scrap metal and compromised ballistic glass to armor our vehicles, and why don't we have those resources readily available to us?"
Just 12 days later the Pentagon gave Tooele the go-ahead to produce armor. But officials say there's no connection; the incident did not affect the schedule.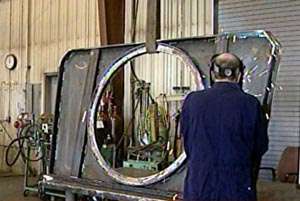 Rodney Huff, Tooele Army Depot: "No actually, this program has been in the works since last fall, long before the infamous Rumsfeld interview."
Once the armored cabs get to Iraq, it will take the troops about 40 hours of work to install them.
Keith Siniscalchi: "The glass on these are set up so they can stand four direct shots from an AK-47, the same area."
The project here is small-scale, involving only a few employees. But from a purely parochial point of view, it's considered good news here -- Tooele has a new mission at a time when many bases are vulnerable to being shut down.
×
Most recent Utah stories