Estimated read time: 3-4 minutes
This archived news story is available only for your personal, non-commercial use. Information in the story may be outdated or superseded by additional information. Reading or replaying the story in its archived form does not constitute a republication of the story.
Ed Yeates ReportingPeople who run through a solid wall of fire trying to escape from a building seldom live to tell about it. But almost nine months later, a Salt Lake man who doctors say has a remarkable will to live, is just such a survivor.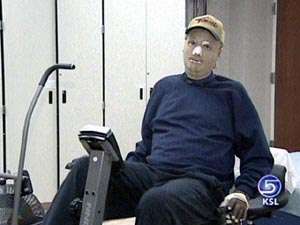 It happened at the Time Shop Jewlers in downtown Salt Lake City. There's not much left inside the store space now. But if you look closely, you can still see the eerie shadow of an intense fire that on Memorial Day of last year that literally exploded in front of Jeff Hansen.
Jeff Hansen: "I could hear it and the fire was about eight feet away from me, and the heat was incredible. And it was actually sucking the air from my lungs."
Even though it's been almost nine months since that fire exploded inside Jeff Hansen's store, the memories are branded inside his head. It was Memorial Day. The Time Shop was closed, but Jeff was in a back room trying to catch up on some work. His daughter was at the front of the store doing homework. The door was locked, the keys on the counter.
Jeff Hansen: "It was instantaneous. In seconds, I thought I was a goner."
Without warning, something ignited fumes from the solvent he was using to clean a clock. The flames exploded and fanned out, engulfing everything outside the room.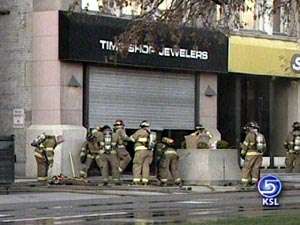 Jeff Hansen: "I basically had to run through the fire to get to her and my keys and get her out of the store."
At the University of Utah Burn Center Jeff was in so much pain he had to be heavily sedated and was literally unaware of anything going on around him from the time he arrived until early September, three months later.
The road to only partial recovery - so far - has been as intense as the fire itself.
Jeff Hansen: "Harder to learn how to walk again and that type of thing. That was harder on me than the pain. They taught me how to walk again, how to stand up. I mean it took me a month just to stand up."
The heat was so intense, doorknobs, even his keys were like holding onto branding irons. People just don't usually survive running through walls of fire like he did.
Stephen Morris, M.D., University of Utah Burn Center: "We had to go to his parents and his wife and talk about the possibility that he wouldn't make it. Many patients with a 60 to 70 percent burn may have half of that as partial thickness that would heal on its own. In Jeff's case, almost all of it was full thickness."
Full thickness, meaning the fire burned through all the layers of skin. Sure the technology, the expertise at the Burn Center had a lot to do with where he's at now. But Dr. Stephen Morris says there's something else.
Stephen Morris: "Jeff had some inner source of energy, optimism, and ability to overcome obstacles, which I think is quite rare."
Jeff says through it all he just kept thinking of his kids, his family.
Jeff Hansen: "I'm alive. I have my kids. You couldn't ask for more."
Jeff's got a lot of therapy and reconstructive surgery ahead of him. But he says he hopes to come back, open up the store again, and pick up where he left off.
×
Most recent Utah stories