Estimated read time: 2-3 minutes
This archived news story is available only for your personal, non-commercial use. Information in the story may be outdated or superseded by additional information. Reading or replaying the story in its archived form does not constitute a republication of the story.
Shelley Osterloh ReportingSalt Lake County officials are still investigating an apparent case of elder neglect in Magna. A 72-year old woman was hospitalized last week when emergency crews found her in filthy conditions. Investigators had planned to speak with the woman today, but were unable to do so. They aren't allowed to tell us how she is getting along, but she was found in shocking conditions.
Emergency workers were called to the Magna home last week to treat a stroke victim. They found the woman confined to a recliner, sitting in her own feces and urine. She had open wounds on her legs that were badly infected.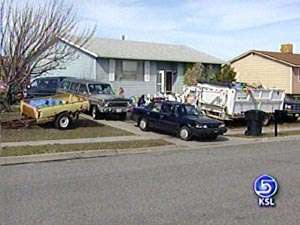 The house is owned by the woman's daughter and son-in-law. Their four children were voluntarily removed from the home and are staying with relatives. The couple had until today to clean up the bug-infested house, and Health Department Investigators examined the home today and said it won't be condemned.
Experts at the Salt Lake County Division says caregivers need to seek help to avoid elderly abuse and neglect. Last year Utah investigated more than 2400 cases of suspected elder abuse. One-fourth of those were valid cases. The largest portion of those cases were self neglect, an elderly person who is incapable of caring for themselves. 15% of those cases involve physical abuse, 12 percent caregiver neglect.
Experts say, there is care available even those who cannot afford to pay for it, if people seek it.
Nancy Stallings, M.A.M., S.L. County Aging Services: "Medicaid is available to help low income frail elderly people who need long term care. And before they get to long term care, here at aging services we have some programs to provide in home care to reduce that premature nursing home placement."
Every county in the state has a division of aging that will provide help and referral services for the elderly and their caregivers, so this kind of apparent neglect doesn't happen again.
Tomorrow a juvenile judge will decide what happens to the children. As yet no charges have been filed.
×
Most recent Utah stories