Estimated read time: 2-3 minutes
This archived news story is available only for your personal, non-commercial use. Information in the story may be outdated or superseded by additional information. Reading or replaying the story in its archived form does not constitute a republication of the story.
Tonya Papanikolas ReportingElisa Gonzalez: "In seconds I, again, I had all those lives in my hand that I had to protect, and it was up to me to bring them to safety."
Between a steep cliff and a snow bank, the driver of a van carrying a group of senior citizens talks about the terror of losing her brakes on a winding canyon road.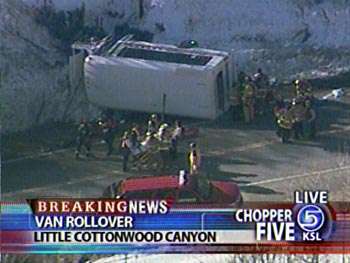 The van crashed after the driver says she lost her brakes coming down Little Cottonwood Canyon. But her quick reactions probably saved a dozen lives. That driver spoke exclusively, today with our Tonya Papanikolas.
Elisa Gonzalez was taken to the hospital herself after the accident, but she's doing fine today. So are most of the passengers. Only one had serious injuries, with a broken shoulder and collarbone, but even she is back home today. That gives Gonzalez even more relief.
Elisa Gonzalez loves working with the residents at the Alta Ridge Assisted Living Facility. Last week their lives were in her hands. Gonzalez drove 13 passengers, mostly elderly residents, out for ice cream and a visit to Snowbird. But heading back down the canyon, Gonzalez discovered a serious problem.
Elisa Gonzalez: "My brakes were not functioning, and I lost control of the brakes."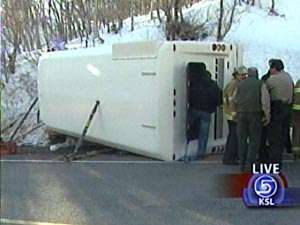 Gonzalez tried to slow the speed by switching gears, but it didn't work. So she made a quick decision. To the left was a steep cliff, and the other side snow.
Elisa Gonzalez: "I deliberately went to the snow embankment to stop the vehicle cause I was picking up more speed. And I did not want to endanger more lives, and I knew that I had lives in my hand I had to protect."
Sue Mower, Passenger in Van Crash: "It was so fast, you couldn't believe it. I think you're so bewildered, you're scared to death, but you're so bewildered, you just hold your breath, sort of, and wait."
Mower was thrown against a window. The residents inside were all buckled in.
Elisa Gonzalez: "All I could recall is that we were on our left-hand side. I recall the residents dangling from their seatbelts."
Gonzalez says two "good Samaritans" helped evacuate the van, and amazingly everyone survived.
Elisa Gonzalez: "It caused little bruises and bumps, and one shoulder fracture. But we're all alive, and I thank the good lord."
The residents and staff say they're also thanking their driver.
Paula Heugly, Alta Ridge Assisted Living Center: "She was so conscientious and she made all the right decisions. Quick decision-maker."
Sue Mower: "She knew exactly what she was doing. I give her full credit for that."
Meanwhile, Gonzalez wanted to publicly thank those two men who helped out and all the officers who responded so quickly. The accident is under investigation, but staff members say they get their vans serviced regularly.
×
Most recent Utah stories