Estimated read time: 1-2 minutes
This archived news story is available only for your personal, non-commercial use. Information in the story may be outdated or superseded by additional information. Reading or replaying the story in its archived form does not constitute a republication of the story.
Amanda Butterfield reporting A University of Utah student is in critical condition after a car plows into her at a busy campus intersection last night.
It happened at the intersection of South Campus and Wasatch Drive, as the woman was leaving campus.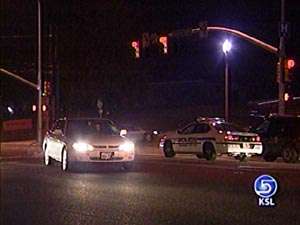 A car heading south struck her as she made her way through the intersection. Officers say speed wasn't a factor, but they're not sure if the pedestrian or the driver is at fault.
They're looking at whether traffic signals permitted the woman to cross the street when she was hit.
Police say a case like this is unusual.
Sgt. Kent Curtis/ University of Utah Police Dept.: "We typically don't get many auto-pedestrian accidents of this severity. We do get people bumped on occasion, but not to this degree."
Police say the woman is a student at the University of Utah. She was walking across the street with another person when the crash happened.
Officers responding to the scene last night say she was bleeding from the face, possibly due to some head injuries.
She was rushed to the University of Utah Medical Center.
Police also aren't sure if visibility was a factor in the accident. They say it was dark outside and that may have made it difficult for the driver to see the pedestrian.
×
Most recent Utah stories