Estimated read time: 2-3 minutes
This archived news story is available only for your personal, non-commercial use. Information in the story may be outdated or superseded by additional information. Reading or replaying the story in its archived form does not constitute a republication of the story.
Keith McCord ReportingThree Duchesne County men are missing in Texas and their families are fearing the worst. The three were on their way to Houston to help pick up some oil drilling equipment when their boss said they vanished.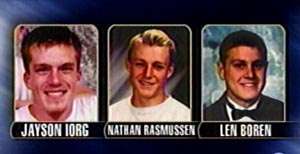 The three friends, ages 20, 21, and 22, left Duchesne County early Sunday morning. They had just been hired by an oil company and were following their boss down to the Houston area. In northern Texas, the boss said they vanished!
Jayson Iorg, Nathan Rasmussen and Len Boren, all of Roosevelt, were just hired by Pioneer Drilling Company. At 6:30 Sunday morning, they got into Iorg's white 2003 Saturn, and started the long drive, following their boss, Troy Harris, to Texas. From eastern Utah, they drove through Colorado, New Mexico, and into Texas. That's where the trail abruptly ends.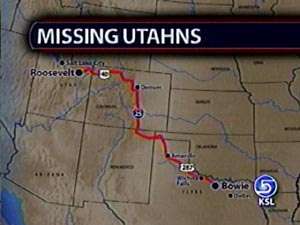 After stopping for gasoline between 1:00 and 2:00 a.m. on Monday near the town of Bowie, Troy Harris said he didn't see the headlights of the men behind him. So he pulled over and waited. That's where the case stands right now.
The Duchesne County Sheriff's department says there has been no cell phone or credit card activity from any of the men, so tracking them that way has hit a dead end. Speaking by phone with us today from eastern Utah, Jayson Iorg's sister, Lacie, says her parents in Texas are exhausted, but are still searching.
Lacie Iorg, Jayson's Sister: "Ever since, I don't know how early this morning, they've been up, just putting up flyers and handing out to people, just asking if they've seen them. And if they have, please, please call..."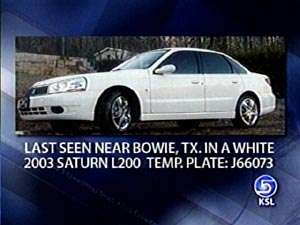 Lacie Iorg says her brother had just purchased the white Saturn recently, and when this oil company job came up, he looked at it as a way to make some money to pay the car off, before heading off to college in the fall.
×
Most recent Utah stories